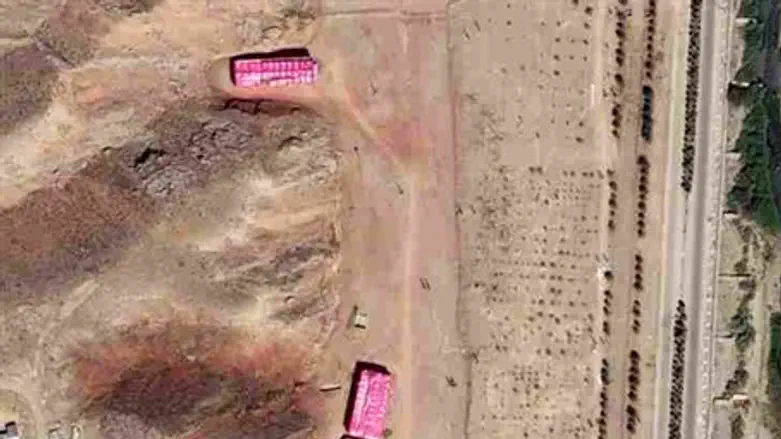 Suspicious activity at Parchin (illustration)
Reuters
As experts got a chance to examine the details of the 159-page Iran nuclear deal signed Tuesday, they warned that it ignores various key aspects of the Islamic regime's nuclear program, and that the lifting of arms sanctions may pave Iran's path to nuclear-capable missiles.
A glaring omission is seen in the absolute lack of any reference to the highly covert Parchin military base located southeast of Tehran, which is suspected of being the center of Iran's secret nuclear weapons program, according to the International Atomic Energy Agency (IAEA).
Iran has admitted to testing exploding bridge wire nuclear detonators at the site, and reports tied the Parchin base to Iran's nuclear program following a mysterious explosion at the site last October.
IAEA reports in November 2011 pointed to nuclear weapons development previously conducted at the site, and a 2012 IAEA report likewise confirmed explosives containment vessels were at the site and likely used to test nuclear detonations. Satellite photos have shown Iran has been modifying the site, possibly expanding the tests and covering up their existence.
Iran has repeatedly refused IAEA requests to inspect Parchin. IAEA chief Yukiya Amano announced on Tuesday that in addition to the nuclear deal, a "road map" agreement was sealed, by which Iran will disclose military aspects of its nuclear program by October 15. After this, Amano will write an assessment of Iran's claimed disclosures by December 15 "with a view to closing the issue."
Amano said the agreement would include a visit to Parchin, but it remains to be seen how much time Iran will have to prepare for such a visit and possibly hide evidence of nuclear tests; Iranian officials rejected last-minute reports that inspections would be allowed at all covert sites.
IAEA roadmap: putting the cart in front of the horse
Thomas Moore, an arms control specialist and staff member of the Senate Foreign Relations Committee, told Washington Free Beacon that the IAEA "road map" should have taken place before the nuclear deal, and not after it.
"The IAEA's resolution of the possible military dimensions of Iran's nuclear program should precede the deal, not by months but by as much time as it takes to verify the absence of Iran's (past military work), including the full historical picture of its program. And the deal does not do that," said Moore.
Not only does the deal not directly address military aspects of Iran's nuclear program, critics warn it contains several loopholes that will greatly limit its effectiveness in stopping Iran's march to a nuclear weapon.
For one, the agreement calls for Iran's "voluntary" compliance with the terms of the deal in several places, instead of implementing mandatory steps Iran must fulfill. It also outlines a convoluted bureaucratic process to confront Iranian violations, reports Washington Free Beacon.
What's more, a section of the deal may allow Iran to avoid revealing its past nuclear weapons testing, stating that Iran "may propose to the IAEA alternative means of resolving the IAEA's concerns that enable the IAEA to verify the absence of undeclared nuclear materials and activities or activities inconsistent with the JCPOA (Joint Comprehensive Plan of Action) at the location in question."
The deal also includes removing a large number of sanctions, including those targeting Parchin Chemical Industries (PCI), which operates sites at the Parchin base and is thought to be highly involved in the covert nuclear weapons program.
"Iran can get its first bombs in weeks"
Aside from Parchin, experts were alarmed to see that the nuclear deal does not directly impose limits on or even reference the Russian-made Bushehr nuclear power plant, which they warn can produce enough plutonium for a large number of atomic weapons.
Henry Sokolski, director of the Nonproliferation Policy Education Center, told Washington Free Beacon that Bushehr's exclusion from the deal was a mistake.
"That reactor can produce enough plutonium for dozens of bombs per year," warned Sokolski. "Iran could remove the fuel from the reactor and use a small, cheap reprocessing plant to extract plutonium, and get its first bombs in a matter of weeks."
Regarding plutonium, after 15 years the deal stipulates that Iran will be able to "engage in producing or acquiring plutonium or uranium metals or their alloys," and likewise conduct research and development "on plutonium or uranium (or their alloys) metallurgy, or casting, forming, or machining plutonium or uranium metal."
At the Natanz nuclear facility, a limitation on 5,060 centrifuges in 30 cascade units will cease in ten years, and after 15 years Iran will be able to enrich uranium over 3.67% - a 20% enrichment is needed to build nuclear weapons. In eight years, Iran can start producing up to 200 partial advanced centrifuges each year, and two years later it can construct complete advanced centrifuges.
Sokolski warned that "ultimately, this is a gamble on Iran not wanting to make bombs. If they really don't, the deal will work. If they do, the fine print won't stop them."
Nuclear-capable missile sanctions lifted
In addition to the details on Iran's nuclear program, experts warn there are pitfalls in how the deal approaches - or ignores - Iran's nuclear-capable missile program. Notably the deal avoids addressing Iran's ICBM (intercontinental ballistic missile) program.
It also removes sanctions against Iran's Al Ghadir missile command based in Tehran, which has been leading the development of missiles capable of delivering a nuclear warhead, and is thought to hold operational control of Iran's missiles.
A UN conventional arms embargo on Iran will end in five years due to the deal, and sanctions against selling ballistic missiles to Iran will likewise expire in eight years. However, it is possible that China and Russia will covertly sell arms to Iran before those dates, as they have done in the past.
Fred Fleitz, who has formerly served as a CIA analyst, State Department arms control official, and House Intelligence Committee staff member, told Washington Free Beacon that these facets of the deal will allow Iran to arm itself freely.
"Language on lifting conventional arms and missile embargoes is very weak," stated Fleitz.
"The IAEA simply has to certify that Iran isn't currently engaged in nuclear weapons work to lift these embargoes early. The IAEA will be hard pressed to find evidence of this and will probably issue a report allowing these embargoes to be lifted early," he concluded.