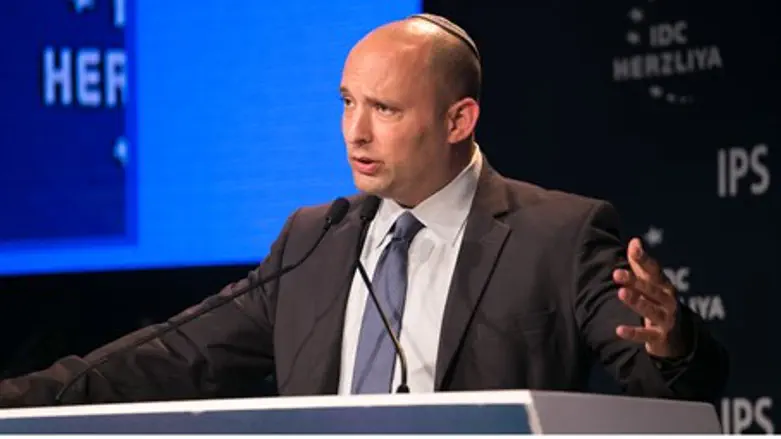 Education Minister Naftali Bennett at IDC Herzliya
Erez Harodi - Osim Tzilum
Education Minister Naftali Bennett announced on Tuesday that he has decided to cut state funding for a play by an Arab theater about a terrorist who murdered an IDF soldier.
"I've ordered the relevant people in the education ministry to immediately remove the play from the culture basket," he said of the state-funded selection of cultural events intended for youths.
Bennett was referring to the play "The Parallel Time" by Almidan, an Arab theater in Haifa.
The play tells the story of Walid Daka, an Arab-Israeli imprisoned for abducting and murdering Israeli soldier Moshe Tamam in 1984.
"Israeli citizens won't fund plays tolerant of the murder of soldiers," he said.  
Bennett was making good on a threat he leveled last week, after the Theater Repertoire Committee dragged its feet on scrapping the play. Bennett had also noted "the ongoing protest of the bereaved family" against the play.
Bennett, head of the Jewish Home party who was appointed education minister last month, added that the morality of the committee that approved the play "needed to be examined," after it found "nothing offensive" about the play.
"I'm education minister," Bennett said, "and a play that portrays tolerance to the murder of soldiers guarding over me is not education."
Also on Tuesday, Culture Minister Miri Regev announced she would "reconsider" state funding to an Arab-Jewish theater, after one of its managers refused to participate in a play in Judea and Samaria.
"I was disappointed to hear that Norman Issa is refusing to appear with the Haifa theater in the Jordan Valley as part of the play 'Boomerang'," she wrote on Facebook of the popular Arab-Israeli actor.
"If Norman doesn't change his mind, I intend to reconsider the ministry's support of Elmina Theater, which he manages," she wrote.
Issa said in response that he and his Jewish wife, with whom he manages the theater, dedicate their lives to the joint Arab-Jewish ideal of coexistence.  
"That's why we established the theater in Jaffa," he wrote on Facebook.  
"You can't expect me, as an Arab-Israeli, to go against my conscience and perform in disputed sites," he continued, implying he would perform in the Jordan Valley if that were the only way to continue state funding for Elmina.
"I still believe in this state and its law, and in the opportunity it gives every individual to express his opinion and act according to his conscience," he wrote.
Zehava Galon, head of the far-left Meretz party, slammed the two decisions.
"Israeli culture is endangered," she wrote on Facebook. "It's unclear what Bennett and Regev are so afraid of, that they feel the need to silence creators who don't align with the regime's position."
"This silencing is a clear sign of a state deteriorating to fascism," she added.