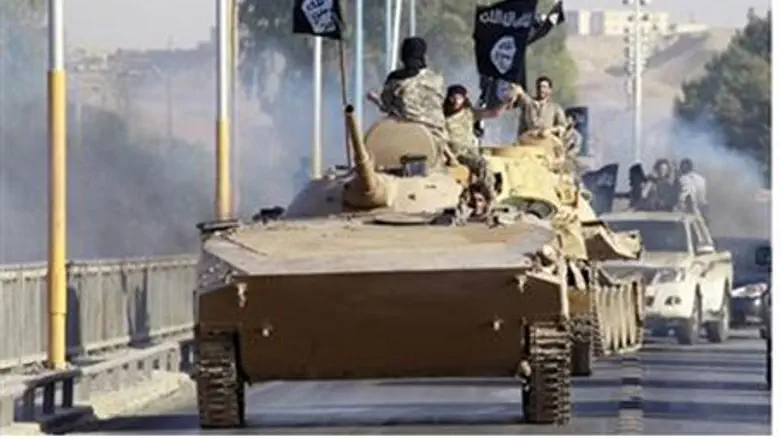 ISIS fighters in Syria (file)
Reuters
Islamic State group (ISIS) jihadists attacked a village in Syria's southern Druze heartland on Tuesday and clashed with pro-regime forces north of the ancient city of Palmyra, a monitoring group said.
"IS killed five fighters from the National Defense Forces and one woman in their attack on the Druze village of al-Haqef in Sweida province," said Syrian Observatory for Human Rights director Rami Abdel Rahman.
He said the Islamists seized control of the town for a few hours before NDF fighters - local pro-government militia - forced them back out.
Citing a military source, Syria's state SANA news agency said the army and NDF "foiled an infiltration attempt by terrorists from IS on the villages of al-Qasr and al-Haqef".
According to the Britain-based Observatory, ISIS controls a series of villages in the northeast of Sweida province, the rest of which remains in government hands, and has tried to seize Khalkhalah military airport.
"IS is advancing on villages in Sweida because they are at a crossroads between Damascus and the roads east to the Syrian desert," Abdel Rahman told AFP.  
'Victory against the world'
Further north, fighting between IS jihadists and government forces continued outside Palmyra on Tuesday morning.
"There are clashes at the western entrance of Palmyra this morning, which lies on the road that leads to Homs city," provincial governor Talal Barazi told AFP.
On Sunday, regime forces pushed ISIS out of northern neighborhoods of Palmyra, which it had held for less than 24 hours.    
Barazi said he visited Palmyra on Monday, "going through 60 percent of the city on foot," visiting the vegetable market and museum.
He said at least 40 rockets had struck Palmyra on Sunday, but that government forces maintained control over key points, including the Islamic citadel overlooking the city.
Palmyra, whose archaeological treasures are renowned worldwide, lies along a number of major highways linking Damascus and Homs to the west, with the Syrian desert and the Iraqi border to the east.
The Observatory said there had been clashes north of the city and the government had brought in reinforcements.    
Barazi said he expected the situation would be "normal" within a week, but Syrian antiquities director Mamoun Abdulkarim said he feared further ISIS attacks.
"They will keep trying to take the city," Abdulkarim told AFP. "For them, if they destroy Palmyra, it would be a victory against the world."
Further east, an air strike on a village in Deir Ezzor province killed at least eight civilians, including three children, the Observatory said.
In the northern city of Aleppo, state television reported that government forces had blown up a tunnel excavated by rebels and broadcast footage of billowing black columns of smoke.  
The conflict began with anti-government protests in March 2011 but has evolved into a multi-front war that has killed more than 220,000 people.