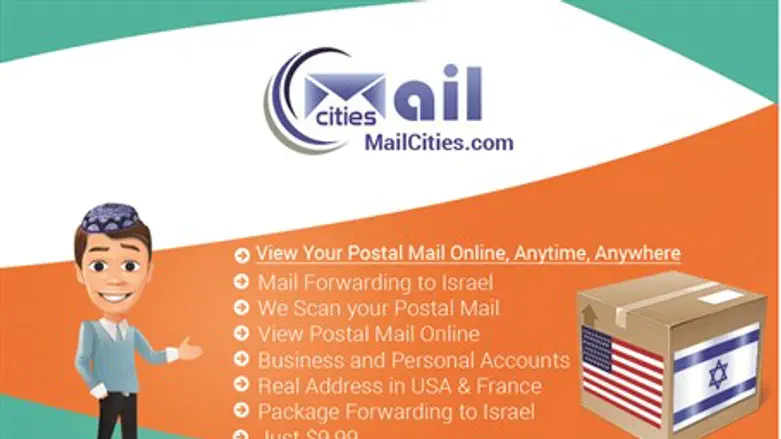 MailCities LLC
MailCities LLC
"Please stop sending your Postal Mail to my house! I am happy you made Aliyah but I don't want to have to deal with all your junk mail and credit cards," my sister said.
Tired of the angry calls from family and friends in America, there had to be a solution to receiving packages and postal mail in Israel.
I created MailCities LLC. as the solution. We give you a legal USA or France Street address and you just forward your postal mail to us instead of annoying your friends back at home! As soon as your postal mail arrives at our office in New York or France, we scan it for you and file it away for you. Then from anywhere in the world, you login to www.mailcities.com and view your postal mail. Any item you wish to be forwarded to you in Israel or worldwide, just request it sent to you and it will be there in a week.
We are not just limited to postal mail. Packages are our forte as well. Most of us who made Aliyah or who travel often miss our ability to shop for deals on Ebay and other online stores which have costly international shipping fees, if they even ship internationally at all. When you have an account with us, we take care of your packages too.
For years I had no solution to receiving my mail here in Israel. When I wanted to open up a business or new bank account, paperwork was always lost and misplaced when using family as the go between. I couldn't get my bank card or work on my credit rating because there was no way to follow up without the ability to read my mail.
Sometimes there were checks from my businesses that had to be sent to a USA address but these were many times lost or not deposited. MailCities will even deposit your check into your bank account. In fact, we have slowly expanded our business to provide many solutions for offshore business in the USA and to help the Aliyah experience. We have teamed up with Money exchange agents, international moving services, US accountants and lawyers to handle many Aliyah needs.
We have also started an affiliate program where anyone can join our team and share in the profit of the new clients that you bring us. Our services are a needed for everyone who travels often during and makes Aliyah. How we all managed in Israel without this service all along is beyond me.
No longer do you need to regret phoning your family to wish them good Shabbos or Yom Tov in fears they will request you stop sending your packages and mail to them. You can now shop and use online USA stores for the best deal and ship your goods without worry. Mailciites.com is your new online mailman, a registered agent of the United States Post Office.