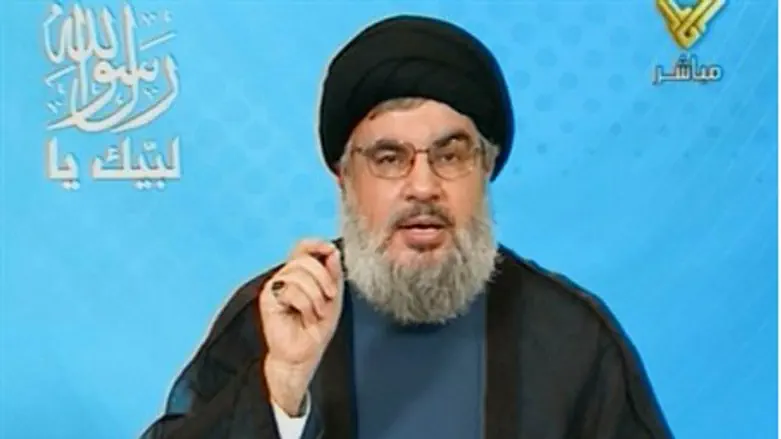 Hezbollah leader Hassan Nasrallah
AFP photo
Hezbollah chief Hassan Nasrallah has admitted his terrorist group is incapable of defeating Israel on its own, in the latest illustration of how the Shia Islamist group is being overstretched by growing commitments throughout the Middle East.
In an interview with Syrian state TV last Monday, translated by the Middle East Media Research Institute (MEMRI), Nasrallah explains that despite boasts by himself and other Hezbollah leaders about the group's capabilities, it is incapable of mounting a war against Israel independently.
"Are we supposed to lie to our people and ourselves, saying that we are capable of launching a war against Israel, wiping it off the map, and liberating Palestine? Hezbollah is incapable of doing this all by itself," Nasrallah told his interviewer, after being asked why Hezbollah is not using its "sophisticated weapons" to "open a new front" against the Jewish state.
"We have never made such claims. We are realistic," he continued.
"We are facing a real force," he added, in an unusual nod to the formidable adversary Hezbollah faces in the IDF.
Nasrallah emphasized, however, that unlike "others" - likely a reference to Arab states who have signed treaties or otherwise cooperate with Israel - Hezbollah's inability to wipe Israel off the map "from the river to the sea" did not mean it would accept the Jewish state or end its hostility towards it.
Referencing claims he has made on numerous occasions that in the next war with Israel Hezbollah could conquer the Galilee in northern Israel, Nasrallah backtracked somewhat, claiming that even then he was only talking "hypothetically".
"I did not take an oath. I only said that this could happen," he cautioned. "In a future war, God forbid..."
"But as for going all the way to Tel Aviv and Eilat - well, we do not have that capability."
Going further, Nasrallah opined that none of the array of terrorist groups facing Israel - most of whom, like Hezbollah, are Iranian-backed - could achieve their oft-stated goals of annihilating Israel by themselves.
"No resistance faction can be responsible for a war of such magnitude by itself," he declared. "Such a war would cause great damage throughout the region. A decision like this should be taken by partners, who are capable of accomplishing the goal behind declaring such a war."
Watch Hassan Nasrallah's admission:
The tone and content of Nasrallah's comments were markedly different to those he has made in the past.
He has in fact on several occasions declared his group's intention to wipe Israel off the map, and his admission that Hezbollah cannot do so on its own - as well as his implied but clear reticence to drag Lebanon into another potentially devastating war with Israel - come as Hezbollah is facing increasing pressure both in terms of both finances and manpower.
As the largest proxy of Iran in the region, Hezbollah has been drafted by Tehran into several regional conflicts - most notably Syria, where hundreds of its fighters have been killed fighting Sunni rebels alongside forces loyal to the Assad regime.
Hezbollah is also being deployed in increasing numbers in Iraq, as part of Iran's efforts to back Baghdad's Shia-dominated government against a Sunni uprising led by ISIS.
More recent reports claimed Hezbollah fighters and "military advisers" have also been sent to back Houthi rebels in Yemen.
The steadily-rising body count of Lebanese recruits in foreign conflicts, coupled with a series of devastating terrorist attacks by its Sunni Islamist foes in retaliation, has turned many Lebanese against Hezbollah as well.
Earlier this month, former IDF Chief Staff Gabi Ashkenazi asserted that despite Hezbollah's increased presence along Israel's northern border with Syria, it is in fact in a weaker position than before vis-a-vis Israel.
"Hamas cannot conquer the Negev and Hezbollah cannot take the Galilee," Ashkenazi stated at a ceremony for Kineret Academic College in Tel Aviv. 
Other military appraisals of the situation have been less optimistic however, with officials warning in the next war Hezbollah could fire between 1,000-1,500 missiles a day, and warning its forces are operating freely along the northern borders.