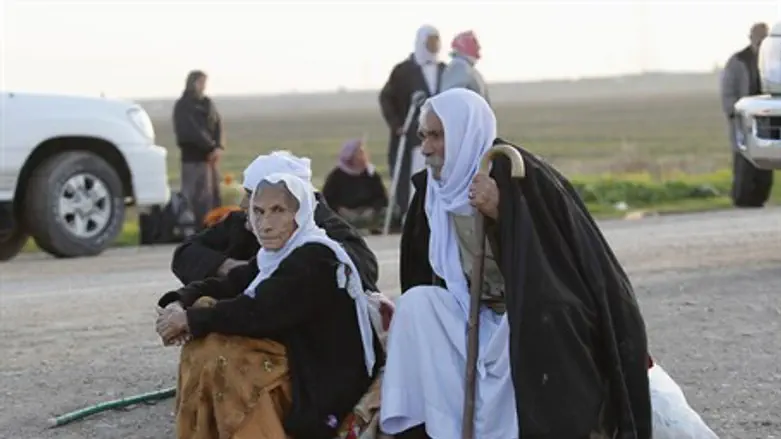 Yazidi refugees in Iraq
Reuters
Last year's attacks on the Iraqi Yazidi community galvanized international support for intervention against Islamic State (ISIS), but just who are the Yazidis?
The community is mostly Kurdish and professes a unique religious tradition outside the "Abrahamic line" that includes Judaism, Christianity and Islam. Regardless of unfamiliarity, the siege of Mt. Sinjar where tens of thousands of Yazidis were trapped evoked an emotional reaction in the West.
But attention has been drawn away from the community, even though it is still facing siege on the same mountain and experiencing a disproportionate amount of ISIS's mass rapes, executions and general crimes against humanity.
"The UN concluded that the Yazidi community was systematically targeted and crimes committed against them potentially amount to genocide," Human Security Center (HSC) Executive Director Julie Lenarz told Arutz Sheva.
The UN estimated as many as 5,000 Yazidis had been massacred in ISIS's 'Northern Offensive' late last summer. An even higher number of Yazidi women – 7,000 – have been kept in or sold into sexual slavery according to numerous reports.
The HSC director noted that during interviews conducted by the UN "in the aftermath of the assault on the community last summer, witnesses spoke of mass killings, over 50 cases of torture, hundreds of bodies scattered alongside the roads, the murder of the disabled by a shot in the head, 200 children who had died of thirst, starvation and heat on Mount Sinjar, women and children who had been buried alive or chosen suicide by throwing themselves off the mountain over being captured by ISIS and thousands of abductions."
Lenarz does not imply that the initial response of coalition forces was weak by any means, but it was not long enough and did not follow through in such a way to force ISIS away from Mt. Sinjar and allow those taking refuge there to return to their homes.
"Air strikes and humanitarian aid were initially successful but by October 2014, ISIS surrounded Mount Sinjar again and more than 10,000 Yazidis were once again trapped. Especially the southern side of the mountain remains unsafe. ISIS has left behind snipers and IEDs (improvised explosive devices - ed.)."
Yazidi Kurds continue to flee to the area as their primary refuge. Rudaw, a Kurdish news agency, reported two weeks ago that several more refugee families had arrived at Mt. Sinjar.
The Yazidis are one of many minority groups aligned with the Kurdistan Regional Government (KRG) and its military – the Peshmerga. But there are cracks in that coalition attributable to an insufficient supply for the Kurdish armed forces.
Friction with the Kurds?
On Tuesday, it was reported that Kurdish authorities arrested Haider Shasho, a senior commander for the Yazidi-populated Sinjar Mobilization Units (HBS).
"Haider Shasho was apparently arrested for seeking assistance from the Shia' Popular Mobilization Units (PMU), an Iranian proxy," Lenarz told Arutz Sheva. "Minority resistance units, such as the HBS, are supposed to be incorporated within the Peshmerga forces."
There have been reports that Shi'ite militias are trying to recruit among Yazidis, thus strengthening their own toehold in the northwestern part of Iraq. It was Haider's uncle Qassem who founded the HBS in 2014. Qassem Shasho has said on several occasions that because of the sectarian nature of the conflict, Yazidis were forced to have to help themselves and manage their own military units.
When asked if the Kurds were still concerned about Iranian influence despite a number of senior meetings between the KRG in Tehran recently concerning military logistical coordination, Lenarz answered in the affirmative. But the arrest itself could open a chasm that was not previously there between the Kurdish Peshmerga and the ad hoc Yazidi fighting force.
"Kurdistan is extremely concerned about Iranian militia forces closing in on the KRG region from the North – in particular Asaib Ahl Haq and the Badr (Brigades) – which answer directly to Qassem Suleimani, the head of the Qods Force (of Iran)."
For decades the Kurds have struggled to break away from the Sunni-dominated government in Baghdad, making Tehran an erstwhile ally. Now, with a Shi'ite government serving as a satellite in Iran's orbit, Tehran is a force the Kurds must reckon with.
"This goes to the heart of the power struggle over the future of Iraq post-ISIS," says Lenarz. "Never before has Iranian influence in Iraq been stronger and the KRG is highly suspicious of a muscular alliance between the Shia government in Baghdad and Iranian militias."