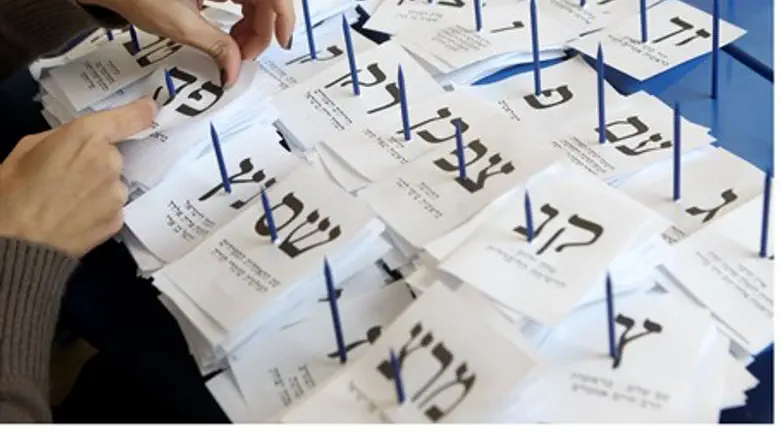 Knesset elections (file)
Miriam Alster/Flash 90
When expressing yourself politically, it can be difficult in Israel to be honest about your voting intentions if you live in certain communities. But one new app is looking to combine the comfort of anonymity with the insight of your personal social network.
Arutz Sheva went to find out more about the new app launched by ivote.org.il, which aims to utilize Facebook's personal connections to encourage Israelis to participate in next week's election.
The initiative comes from several developers, including Tal Ben-Simon, VP of Product for eTora; his day job is reflective of the skills he brings to the initiative - which itself is private.
"I am very emotionally involved in current events. I'm not associated with any party. I'm not funded by any political organization. It's an extremely private initiative that I built with my friends and colleagues from work and other companies. It's totally focused on our idea and funded with our money," Ben-Simon told Arutz Sheva.
Politics can be a passionate subject for anyone, but it does not necessarily engender a direct conversation about why we vote for the people that we do. When challenged directly, people can become defensive. What this app does is invites people to use the app like any other survey or game, for the curiosity and fun of it.
"People tend to be very decided on politics, so people are often less willing to reveal their own views," said Ben-Simon. "What we thought was that if we were to provide them with a platform to feel much more comfortable expressing themselves, then they would do so."
Ben-Simon has worked with colleagues from his and other companies to build the application, which works on iOS, Android and desktops via the app's website. He went on to describe that his background in social networks and digital ventures is his profession, but engagement is his passion.
"What we want to do is promote awareness and engagement for all citizens in a way similar to how other social networking apps have utilized anonymous engagement."
Thus far, the app has registered some 7,000 voters who heard about the app with no publicity outside of its initially being shared by Ben-Simon and others among their friends. He is now reaching out to media on the political right of the Israeli spectrum, because the voting so far has mostly spread among people voting for left-wing parties.
"We want this to be truly representative of the Israeli political spectrum. We know that this application can only have a real impact if we can get left and right-wing parties to both come to the table."
Ben-Simon emphasizes that while any vote cast would be anonymous, you can still see the results of votes from everyone in your personal Facebook network. He says the app was designed to reach two degrees of separation - friends of friends - but not further, in order to draw interest from users and appeal to their friends to also try out the app.
Explaining the goal of the app, he noted "we hope that when people share the link to the website or the app that discussion will start in the comments below. We have already seen lots of debate among our friends about who they are voting for."
"It's not about getting anyone to vote for a certain party, but simply to vote. I really think it is important for people to exercise their right to vote."
Asked if he thinks the app might persuade people who otherwise would not have voted to go to the polls, he is hopeful, saying "we can get people more engaged. I believe we can provide a real impact and this app can be a sort of phenomenon in this election."
As noted before, the initiative is totally a private one, but there is no anticipation of making a profit off of the app.
"This isn't for revenue," Ben-Simon said. "We don't plan any revenue streams. But we can already see this is a valid, viable idea."
It also remains to be seen what Ben-Simon and his friends might do with the app after the election. It is currently only available in Hebrew, but the possibility of translating it later and using it in other countries' elections is a tantalizing one for Ben-Simon.
"We would have to see what happens. There are no plans yet, but if the opportunity presents itself and other countries are interested, then we might go for it. It is not off the table," he said.
Ben-Simon closed by being very open about his own political background, but noting that this initiative was for the benefit of everyone.
"I am on the left side of the political spectrum, but I am doing this to increase involvement (in the election - ed.). I have been a Company Commander for years and I love my country. I want people from the left and the right to engage with this application and be motivated to go out and vote," he said.
You can use iVote using an iPhone, Android or by visiting their website.