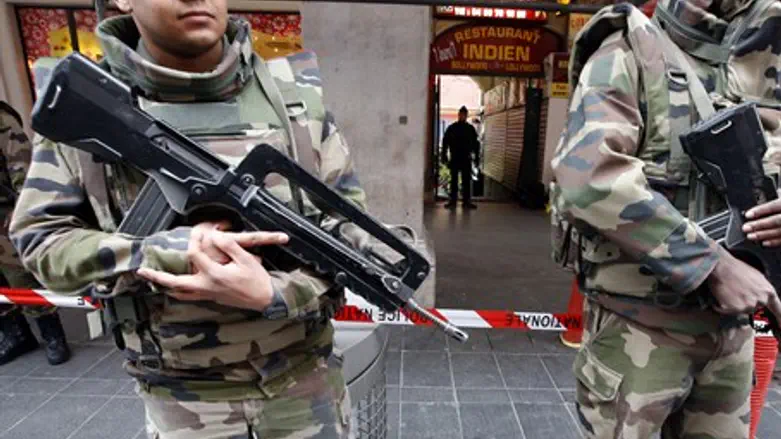 French soldiers outside Jewish community center in Nice following stabbing attack
Reuters
A knife-wielding man accused of attacking three soldiersoutside a Jewish community center in the south of France was on Saturday charged with attempted murder in connection with a terrorist operation, a judicial source told AFP.
Moussa Coulibaly, 30, who was arrested immediately after Tuesday's broad daylight attack in the French Riviera city of Nice, was also ordered to be held in pre-trial detention, the source added.
During questioning earlier this week, Coulibaly told investigators of his hatred of France, Jews, the police and the military, a source close to the investigation said Wednesday.
Two of the troops received knife wounds in the attack and a third managed to wrestle the assailant to the ground.
The knife attack raised fresh security concerns in a country still on high alert after three gunmen killed 17 people in Islamist attacks in Paris last month. One of the gunmen killed four people in a Jewish supermarket siege.
Coulibaly, from a poor western suburb of Paris, was already known to police who questioned him just days before the knife attack in Nice, which came shortly after he was expelled from Turkey.
The soldiers had been patrolling outside the Jewish center as part of reinforced security measures in the wake of the Paris terror attacks.
Anti-terrorist investigators in the capital are focusing their probe on whether Coulibaly knew the soldiers were protecting the Jewish center, tucked away in a courtyard.
Coulibaly had already been fined and given suspended jail sentences in France for offences including robbery and drug use.
He was picked up and questioned in mid-December after "aggressively" trying to spread his beliefs at a gym in Mantes-la-Jolie, another source said, according to AFP.
French intelligence services were then alerted to the fact that he was trying to enter Turkey -- a key entry point for jihadists seeking to go to fight in Syria -- and asked the country to expel him.
The last name Coulibaly, a relatively common name for immigrant families from Mali, is the same as that of Amedy Coulibaly, who murdered four Jews while holding a kosher supermarket in Paris hostage last month after shooting a policewoman to death the day before. Sources said there "apparently" was no connection between the two.