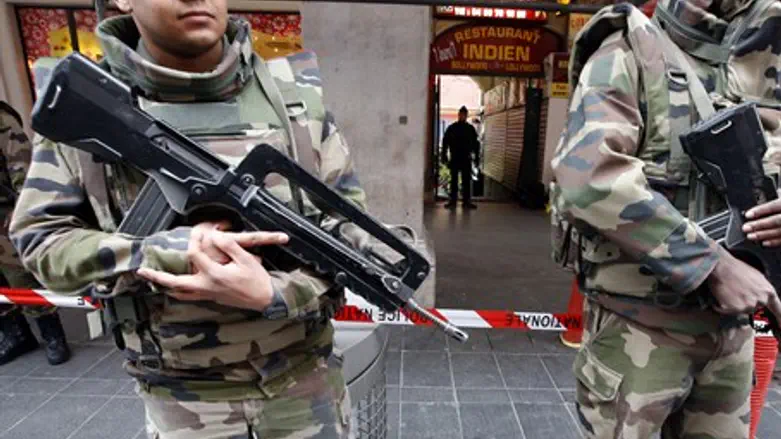 French soldiers outside Jewish community center in Nice following stabbing attack
Reuters
French investigators were Wednesday interrogating a knife-wielding man who attacked three soldiers outside a Jewish center in Nice, as questions resurfaced over security measures a month after the Paris attacks.
The attacker, identified as 30-year-old Moussa Coulibaly from the poor western suburbs of Paris, was already known to police who questioned him just days before the attack, when he was expelled from Turkey last week.
Police arrested him immediately after he knifed the soldiers in broad daylight while they were patrolling outside the center - part of reinforced security measures introduced after last month's jihadist attacks in Paris that left 17 people dead.  
Two of the troops received knife wounds and a third managed to tackle the assailant to the ground.
"This attempted murder targeted soldiers because they were soldiers," Defense Minister Jean-Yves Le Drian said during a visit to the victims' barracks on Wednesday.
Anti-terrorist police were focusing their investigation on whether Coulibaly had known the soldiers were protecting a Jewish center, tucked away in a courtyard in the French Riviera city, and what his motives were.
They were also questioning his mother, sister and brother who were taken in after police searched his home in the poor suburb of Mantes-la-Jolie.  
Since returning from France after his expulsion from Turkey on January 29, Coulibaly was staying at a hotel near Nice station, where investigators found a handwritten document on religion and Turkish currency.
Well-known to police
The knifeman has not been linked to Amedy Coulibaly, who murdered a policewoman and four Jewish shoppers in a kosher supermarket during the Paris attacks last month before being shot dead by police.
The surname is extremely common in west Africa.
The knifeman Coulibaly had already been fined and given suspended jail sentences in France for offences including robbery and drug use.
He was picked up and questioned in mid-December after "aggressively" trying to spread his beliefs in a gym in Mantes-la-Jolie, a source said.  
French intelligence services were then alerted to the fact that he was trying to enter Turkey - a key entry point for jihadists seeking to go to fight in Syria - and asked the country to expel him.  
However he was released as there was not enough evidence to charge him.
"Surveillance was continued to understand why he was in Nice when he had no roots or contacts there," Interior Minister Bernard Cazeneuve said Tuesday.
Coulibaly again fell foul of the law shortly before the attack, when he was fined for not having a ticket on a tram, and a Chad-born Canadian seen with him was taken into custody, although no formal link has been made between the two men.
"We don't know what was going on in his head... he is normal," a man who introduced himself as Coulibaly's brother told journalists during the police search of his home Tuesday night.
Massive security measures
The attack comes after France beefed up security to unprecedented levels around the country - deploying some 15,000 police and troops to protect sensitive sites in the wake of the Paris attacks.
Prime Minister Manuel Valls warned of the task facing security forces who have to monitor some 3,000 people with links to jihadists or "terrorist networks" in Syria and Iraq.
The three men who carried out the allegedly coordinated January 7-9 attacks in Paris, had also been known to police and Valls admitted there had been security "failings".  
"We are facing a new phenomenon, open-access terrorism," Cazeneuve said.  
France is home to Europe's largest Jewish population, estimated to be between 500,000 and 600,000, as well as its largest Muslim community, estimated at around five million.
The attacks in Paris last month prompted concerns over rising anti-Semitism in France, particularly emanating from he country's Muslim community, and also highlighted that security forces were a target of extremists.  
President Francois Hollande will hold a press conference on Thursday during which he is expected to address the security concerns as well as efforts to strengthen French society against radicalization.
AFP contributed to this report.