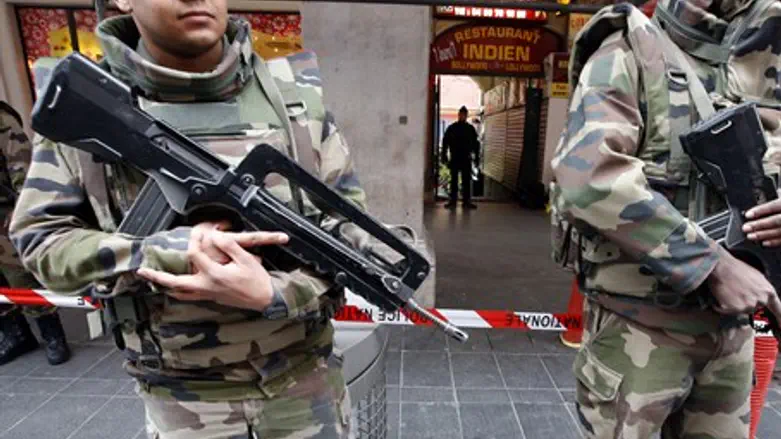 French soldiers outside Jewish community center in Nice following stabbing attack
Reuters
More details have emerged from the French city of Nice, where a knife-wielding man attacked three soldiers patrolling outside a Jewish community center on the French Riviera Tuesday, with sources saying he was expelled from Turkey only last week.
The attack took place in broad daylight in Nice as the troops were guarding the building in central Paris, which houses several Jewish institutions including the Consistoire Israélite de Nice Jewish organization and a Jewish radio state, as part of reinforced security measures introduced following last month's deadly jihadist attacks in Paris.
Two of the soldiers sustained minor injuries, and their assailant was immediately arrested, a police source said.
A second person who was seen with the suspect before the incident was also detained, a source close to the case added.  
A security source involved in the investigation told AFP the main suspect was expelled from Turkey last week and had been interrogated by French intelligence services upon his return, but they had not gathered enough information to take him to court at that point. Turkey is a common transit point used by would-be jihadis on their way to join the Islamic State (ISIS) or Nusra Front terrorist organizations in Syria.
Several sources close to the probe named the attacker as Moussa Coulibaly.
However, there was "apparently" no link to Amedy Coulibaly, who killed a policewoman and four Jewish shoppers in a kosher supermarket during the Paris terror spree that left a total of 17 people dead last month.
"Aged around 30 years old and from the Paris region, he is... known to the police," the interior and defense ministries said in a joint statement.
He had already been fined and given suspended jail sentences for offences such as robbery and drug use, a source said.
Both Interior Minister Bernard Cazeneuve and Defence Minister Jean-Yves Le Drian headed to Nice to visit the victims - one of whom was injured in the arm and the other in the face.
'A criminal act'
President Francois Hollande issued a statement on Tuesday condemning what he called a "criminal act" and promising to investigate the incident.
Anti-terrorist prosecutors in Paris have taken charge of the investigation, a judicial source told AFP.
According to Colonel Jean-Pierre Bedu, a local military official who saw CCTV footage of the incident, the suspect approached the soldiers and dropped a plastic bag in front of them to divert their attention, before pulling a knife out and aiming for one of their faces.
"He has a very deep cut on the cheekbone. The second soldier dodged a few blows and was quite seriously injured on one arm," he said.
"The third (soldier) brought the person under control by tackling him to the ground in the seconds that followed."
France is home to Europe's largest Jewish population, estimated to be between 500,000 and 600,000, as well as its largest Muslim community, estimated at around five million.
The attacks in Paris last month highlighted the Jewish community's concerns over rampant anti-Semitism in the country - which is largely the work of Muslim extremists - as well as the fact that security forces were also a target of extremists.
As such, France has deployed some 10,500 soldiers outside "sensitive" sites in the wake of the attacks, notably outside Jewish and Muslim places of worship, schools and media outlets.
Already-high Anti-Semitism rose dramatically in 2014 with figures showing anti-Jewish acts doubled over the past year.  
Hollande has since vowed to combat what he calls "unbearable" rising racism and anti-Semitism in the country, where he says "conspiracy theories" and hatred against Israel are fueling attacks.
AFP contributed to this report.