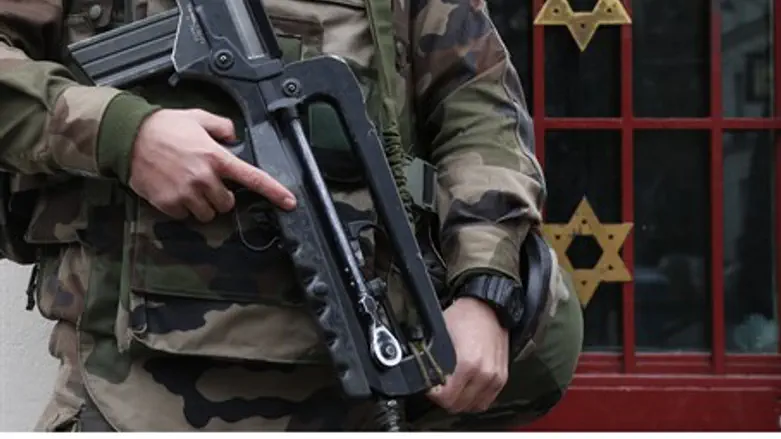 French soldiers guard a Jewish institution (file)
Reuters
Three French soldiers who were conducting a patrol outside a Jewish center in the southern city of Nice as part of the country's recently upgraded counter-terrorism campaign were attacked by a man wielding a knife on Tuesday.
AFP reports that two of the soldiers were wounded on the face and arm, and their lives are not in danger, while French police union official Sarah Baron said the precise extent of the wounds are not yet clear.
The two wounded officers were being treated by medical personnel at the scene, and anti-terrorist prosecutors in Paris have taken charge of the investigation, a judicial source told AFP.
"Shortly after 2 p.m. (1 p.m. GMT), while three soldiers were patrolling in front of a Jewish site...a passer-by violently attacked one of them with a large knife, aiming at his face and neck," said a police source.
The stabber was arrested, but two associates of his are thought to have escaped after the attack occurred in the center of the city, outside the Consistoire Israélite de Nice Jewish organization, Baron told The Associated Press. The building also houses a Jewish radio station, Radio Shalom, and a Jewish association.
Nice Mayor Christian Estrosi was quoted saying the knife-wielding assailant had an identity card with the name Moussa Coulibaly. According to an official he was aged around 30, with a record of theft and assault. Reportedly he is Muslim.
The last name Coulibaly, a relatively common name for immigrant families from Mali, is the same as that of Amedy Coulibaly, who murdered four Jews while holding a kosher supermarket in Paris hostage last month after shooting a policewoman to death the day before; it is not yet clear if he is related, although on source said there "apparently" was no connection.
According to an unnamed security source, the attacker was recently deported from Turkey and interrogated by French intelligence services, before apparently being released.
Turkey is major transit route for would-be jihadis on their way to Syria, specifically for ISIS and Nusra Front recruits. It is not yet clear which, if any, terrorist networks Coulibaly had been in touch with.
French police later said the attacker pulled a knife at least 20 centimeters (8 inches) long out of a bag before attacking the soldiers. He first wounded one soldier on the chin, then slashed another on the cheek and the third on the forearm, before being arrested by riot police stationed near the Jewish community center.
A manager at the center confirmed soldiers posted at the building were attacked, but due to it occurring around lunchtime no one was inside the office at the time.
Earlier on Tuesday French police arrested eight people suspected of involvement in a network that sent Muslim terrorists to Syria to wage jihad. The arrests centered around Paris and the southeastern city of Lyon.
Some 1,400 people living in France have either joined the jihadist terror groups in Syria and Iraq or are planning to, Prime Minister Manuel Valls said last month.
France has launched several raids targeting alleged jihadists after a trio of Islamist gunmen murdered 17 people around Paris in a three-day rampage in January, including the hostage crisis at a kosher supermarket in which four Jews were murdered.
Since then France has deployed roughly 10,500 soldiers to defend the nation, with Jewish institutions receiving particular attention as prime targets for Muslim terrorists.
France is home to Europe's largest Jewish population, estimated to be between 500,000 and 600,000, as well as its largest Muslim population, estimated at around five million.