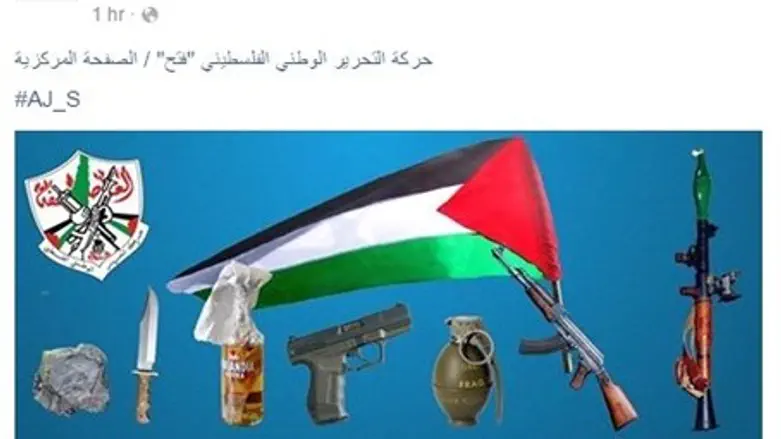 Post glorifying terrorism
Fatah Facebook page/GPO
The Palestinian Authority (PA)'s ruling Fatah party has uploaded a number of posts encouraging incitement against Israelis and Jews in the past several hours, the Government Press Office revealed Wednesday. 
Hours after a Palestinian Arab terrorist embarked on a stabbing spree in the heart of Tel Aviv, Fatah uploaded this photo to its page promoting more terror:
Caption: "We started with stones and will end with a state." Fatah Facebook page
The photo shows a number of means of committing terror attacks, including the rocks, knives, Molotov cocktails, guns, grenades, and various rifles. 
Both Tuesday and Wednesday, Fatah uploaded photos glorifying known terrorists, as well. Both are guilty of murdering tens of Israelis in well-known attacks.  
One of the terrorists who participated in the March 1975 terrorist attack on the Savoy Hotel in Tel Aviv in which 11 Israelis were murdered.
Fatah Facebook page
Ra'ed Carmi, a Fatah archmurderer from the second intifada. The photograph, which marks the day of his death, takes pride in the fact that he was directly responsible for deaths of 165 Israelis and the wounding of over 1,800 others.
Fatah Facebook page
Fatah has often used its Facebook page as a vehicle for incitement, and activity on its social media accounts to this end have increased over the past several months. 
In November, after several stabbings and "car rampages" murdering Israelis near the Jerusalem light rail, Fatah took to Facebook to publish a slew of cartoons, videos, and other media praising the attacks and calling for more terrorism against Israelis and Jews. 
Days earlier, the ruling faction of the PA called for a "day of rage" against Israel on its page after Israeli security forces killed Mu'taz Ibrahim Khalil Hijazi, the terrorist behind the Yehuda Glick assassination attempt. 
And over the summer, Fatah was instrumental in spreading a trend for Palestinian Arabs worldwide to post photos on social media of a three-fingered gesture, which indicated support for the abduction and murder of three Israeli teenagers. 
But the latest flurry of posts, instead of being noted by watchdog groups, have been distributed by the Israeli government itself - a clear message to the international community over Israel's alleged "peace partner."