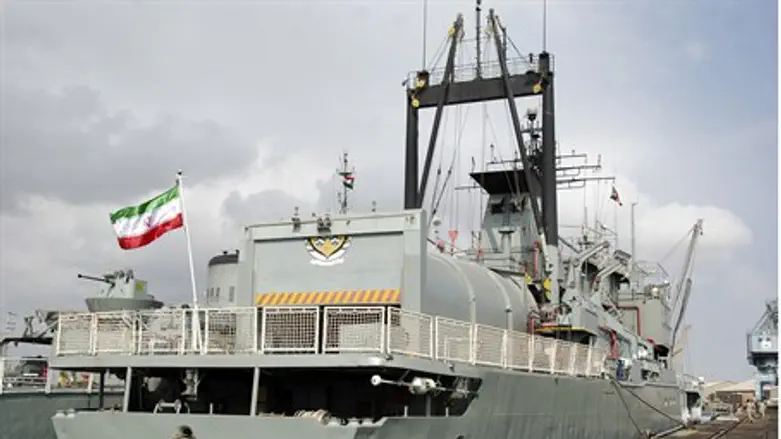 Iranian navy warships (archive)
Reuters
The Iranian army on Thursday began a massive military drill sprawling from the farthest eastern expanses of the Islamic regime all the way to its southern maritime borders opposite the principality of Oman, in the Strait of Hormuz and the Gulf of Aden.
A full 13,000 Iranian soldiers are taking part in the six-day drill, and it reportedly marks the first time the Iranian navy is conducting a drill so far offshore. In the drill, domestically produced missile systems and drones will also be tested.
Iranian General Abed Al-Rahim Musawi, who is responsible for managing the military drill, said in an interview on Iranian television that one of the goals of the maneuver is to improve the capabilities of defending the state.
Meanwhile an Iranian naval commander called on foreign forces to leave the naval territories used in the drill during the time it takes place, noting that there will be no danger to foreign forces stationed in the Persian Gulf.
Iran has shown a major push in recent years to develop its military capabilities, and in particular its navy, missile systems, drones and cyber warfare abilities. It has likewise threatened Israel with annihilation, while developing a nuclear program capable of producing nuclear weapons.
Senior Iranian commanders have warned that the state will close the Strait of Hormuz if Western forces strike the Islamic regime's nuclear facilities, and likewise threatened to strike the oil fields of Arab states in the Persian Gulf as a means of retaliation affecting global oil prices - and also likely collapsing Iran's own oil-based economy.
In recent months the Houthis, a group of Shi'ite minorities in Yemen and allies of Iran, have succeeded in making serious gains in Yemen after capturing the capital of Sana'a in addition to other cities, most notably the port city of Al-Hudaydah.
The Iranian naval maneuver on the other side of the Persian Gulf from Yemen apparently is meant as an expression of commitment by Iran to aid the Houthis, and demarcate its strategic aspirations in the region.
Iranian control in Yemen, facilitated by Houthi control over port cities, would directly threaten the southern naval exit from Israel from the port of Eilat.