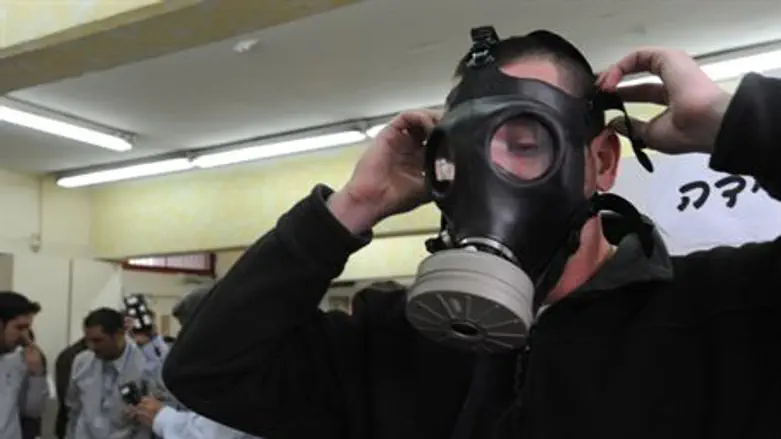 Man tries on gas mask (illustrative)
Israel news photo: Flash 90
The vast majority of gas mask production in Israel will cease following the confirmation of Prime Minister Binyamin Netanyahu's new Cabinet, which is expected to be received soon, Haaretz reported Wednesday. 
Defense Minister Moshe Ya'alon, who initiated the proposal, approved the decision to halt production based on the significant decline in the threat of a chemical weapons attack from Syria.
Syria agreed in 2013 to radically reduce its chemical weapons stock in an operation concluded in June. 
About a year ago, the Cabinet approved Ya'alon's initial motion to end the distribution of gas masks to civilians and reduce production - thereby supplying gas masks only to IDF forces and emergency responders. 
The Cabinet's approval came as a result of the reduced threat and as an economic measure. A provision to the proposal also called for reevaluating the issue in a year's time. 
By the time gas mask distribution to civilians was stopped in January, over 60 percent of Israelis had received one. To maintain that level of coverage, it would cost Israel several hundred million shekels a year. 
Completing the task of providing gas masks to everyone was expected to cost over one billion shekels ($255 million). 
Addressing the issue now, Ya'alon has called to stop the production of gas masks for soldiers as well, aside from a small number that will continue to be issued to emergency responders. These masks are of higher quality than the ones issued to Israeli civilians in the past. 
Halting production will mean shutting down production lines at the Supergum and Shalon companies. This will also mean the dismissal of dozens of factory workers. 
Ya'alon's decision is controversial, even within the defense ministry. Some military professionals and officials call the decision an inappropriate high risk, given the belief that Syria may still have a residual stock of chemical weapons. 
However, intelligence agencies have stated that in the worst case, Syria may use such weapons against soldiers at the border, but don't believe Syria will use chemical weapons against Israeli civilians.
The agencies added that even the use of such weapons against IDF soldiers is considered unlikely.