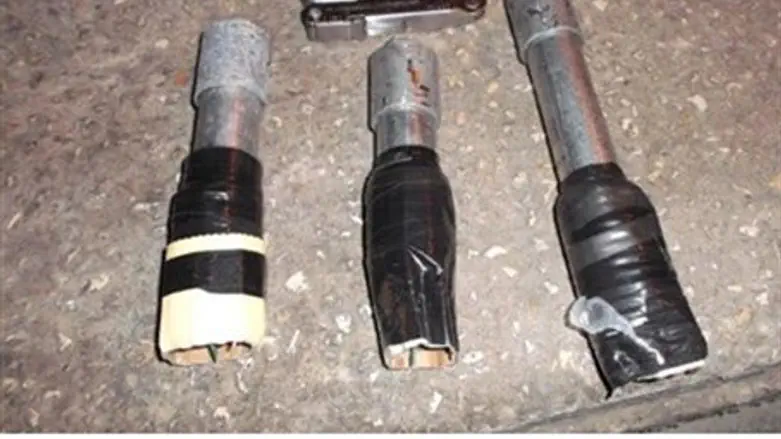 Pipe bombs
Police Spokesperson's Unit
Border Policemen arrested four terrorists Wednesday afternoon, after the four Palestinian Arabs were found with pipe bombs and other weaponry at the Salem checkpoint near Jenin.
IDF soldiers heard a popping sound near the checkpoint at about 3:10 pm Wednesday, they said, prompting an alert. A Border Patrol team from the Samaria District came and identified four Arab suspects at the scene. All four were found with pipe bombs on their persons; they have been taken into Israel Security Agency (ISA or Shin Bet) custody. 
The terrorists stated during initial investigations at the site that they'd intended to carry out an attack against the security forces. Additional forces were sent forward into the blast area and a Border Police sapper neutralized the charges.
Commander and Superintendent Benny Zakai praised the Border Police's response.
"It was probably the alertness and quick response of the fighters prevented a terrorist attack," he stated. "We maintain a very high operational preparedness, with the understanding that such events can occur at any time and anywhere."
"We will continue to act with determination and professionalism, in order to exclude any security threat to our forces and Israeli citizens," he added.