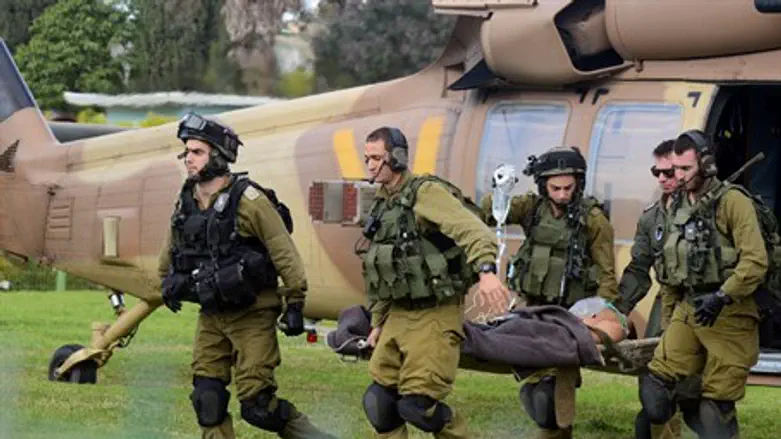 Wounded soldier evacuated to Soroka Medical Center
Flash 90
An IDF soldier is in critical condition after terrorist snipers in Gaza opened fire on Israeli forces late Wednesday morning.
The IDF soldiers were guarding work on the security barrier with Gaza in the vicinity of Kibbutz Nirim and Nir Oz, to the south of the Hamas stronghold, when they came under fire.
The wounded soldier was evacuated for medical treatment at Soroka Medical Center in Be'er Sheva. His family has been notified.
"As a result of the attack, an IDF combat soldier from the Bedouin Reconnaissance Battalion suffered a severe chest injury," an army statement said.
After being shot at, soldiers returned fire at the sources of the gunfire. According to Palestinian Arab reports, there is a heavy exchange of fire going on, which reportedly includes tank shell fire from the IDF and airstrikes by the IAF.
Tayseer al-Ismary (33), head of the surveillance unit in Hamas's "armed wing" Al-Qassam Brigades, was killed by a by Israeli return fire according to local medical sources, and two other Gazans were wounded.
"In response to the firing at our forces who were east of the fence in the southern Gaza Strip, we carried out immediate attacks against the relevant targets," read an IDF statement.
IDF spokesman Peter Lerner denounced the attack, saying on Twitter the "Hamas sniper attack is an outrageous act of aggression. IDF will continue to protect its forces and the border area." He noted the IDF instructed Gazan farmers to stay away from the border area "for their own safety."
Defense ministry workers who were fixing the Gaza security barrier were ordered to leave the area, and agricultural workers in the Eshkol Regional Council area near the Gaza border were ordered to cease work.
This latest incident comes after Gaza terrorists fired a rocket at Israel last Friday in a breach of the truce with Israel, in at least the third such rocket attack since the ceasefire that ended Operation Protective Edge in August.
In response to the rocket attack, the IAF struck Gaza concrete factories used to rebuild the terror tunnels leading into Israel and built to attack Israeli civilians. Over 30 such tunnels were destroyed in the operation, but since it ended Hamas has been busily rebuilding them.
Hamas has been conducting extensive rocket tests to prepare for the next war on Israel, with the most recent round coming Wednesday morning shortly before the attack on the IDF.