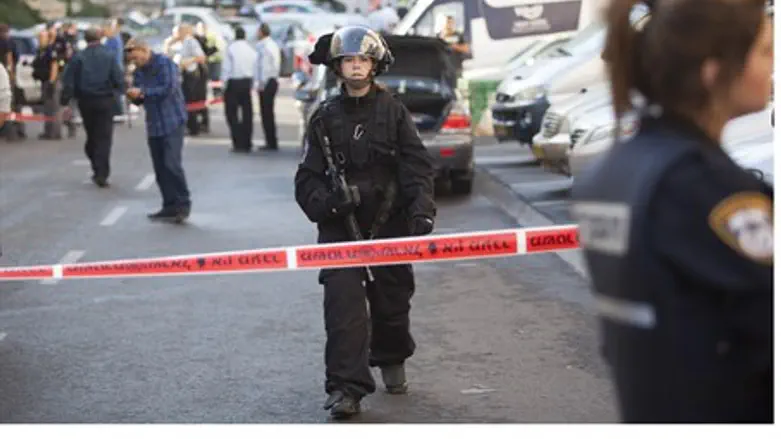 Scene of Har Nof attack
Yonatan Sindel/Flash 90
Interior Minister Gilad Erdan (Likud) decided on Wednesday to strip the permit of stay in Israeli territory for Nadia Abu Jamal, the wife of one of the two Arab terrorists who attacked a Har Nof synagogue in Jerusalem last Tuesday, murdering four Jews at prayer and a police officer.
Abu Jamal, who originally lived under Palestinian Authority (PA) jurisdiction, was living in Jerusalem's Jabel Mukabar neighborhood due to the "family unification" process allowing her to be in sovereign Israeli territory as the wife of the terrorist who was killed in the attack.
She will now have to leave Israel, and will lose all financial and social privileges from the state, such as national insurance and health insurance.
"I've ordered the cancellation of Nadia Abu Jamal's permit of stay in Israel," said Erdan. "Anyone involved in terror needs to take into account that there may be consequences also for their families."
The decision to negate the rights of terrorists, their families and accomplices was made by Erdan in conjunction with Prime Minister Binyamin Netanyahu.
Erdan likewise on Sunday cancelled the permanent residency status of Mahmoud Nadi, the driver for the suicide bomber responsible for the bombing at the Dolphinarium Disco in Tel Aviv in June 2001. That attack killed 21 people and wounded over 100 others.
In the Har Nof attack, the two terrorists Ghassan and Uday Abu Jamal held Israeli residency and the privileges entailed by it, and one of them reportedly worked in a grocery store next to the synagogue they attacked.
While the wife of one of the terrorists has been targeted, it was also reported that the sister of one of the terrorists is a social worker employed by the city of Jerusalem.
Last Thursday, the IDF obtained orders for the demolition of the homes of the two terrorists who carried out the attack.
The families of the two celebrated the attack by passing out candies, with one relative calling the attack "a normal thing that can be expected from every man who has courage and a feeling of belonging to his people and to Islam."