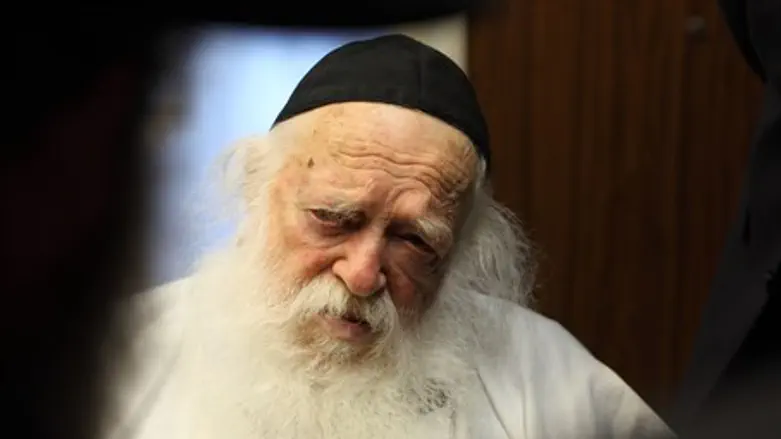 Rabbi Chaim Kanievsky
Yaakov Naumi/Flash 90
Rabbi Yitzhak Mordechai Hacohen Rubin, rabbi of the Kehilat Bnei Torah synagogue in Jerusalem that was brutally attacked on Tuesday, went to visit hareidi leaders on Thursday to ask their participation in a eulogy for the four Jews murdered in the attack, in which a Druze police officer was also murdered.
Rabbi Rubin visited Rabbi Chaim Kanievsky, one of the foremost rabbinical authorities in the hareidi world, and described the horrific attack.
The two Arab terrorists "came in with axes, with guns, they cut off heads...someone who was there from (United) Hatzalah told me they cut off the head completely, cut off hands, simply horrors," related the rabbi, noting the wounded included those missing arms, ears, suffering brain damage and lost eyes.
"I heard the story," replied Rabbi Kanievsky. "The Mashiach (Messiah) has to come."
The hareidi leader explained that "there needs to be an atonement" for the generation so as to merit the coming of the Mashiach, an atonement he argued the victims of the terror attack partially made.
In hearing how the congregants "shake like fish" in shock following the horrific attack, Rabbi Kanievsky stated "G-d will help. Those who shake (with fear) make repentance."
The rabbi agreed to take part in a eulogy for the victims. The meeting with Rabbi Kanievsky, in Hebrew, can be seen here:
Rabbi Rubin also visited Rabbi Aharon Leib Shteinman, who is widely considered one of the leading rabbis of the Ashkenazic hareidi stream.
He explained to both rabbis how he came a few minutes late to the synagogue that morning because his stomach hurt, in a miracle that saved his life from the attack.
"I came to the entrance and suddenly I started hearing gunshots and people started to run outside," said Rabbi Rubin. "I personally had a huge miracle."