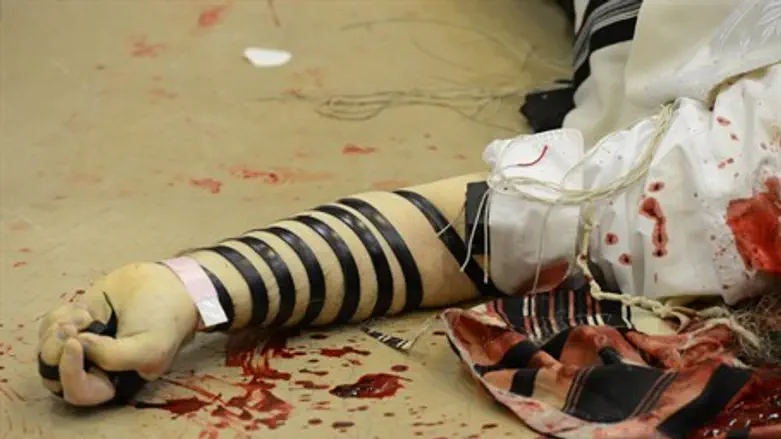 Victim of Har Nof synagogue attack
Kobi Gideon/GPO/Flash 90
New revelations show the Palestinian Authority's (PA) official daily targeted rabbis as enemies just a week before the horrific attack on a Jerusalem synagogue this Tuesday, in which four Jews were murdered as well as a Druze policeman in an attack with hatchets, knives and guns.
The official PA daily Al-Hayat Al-Jadida published an op-ed last Wednesday claiming "the rabbis of the secret societies" are the ones ordering Israel to "set the foundations for an external hegemony," as revealed by Palestinian Media Watch (PMW).
"The Zionist settler ideology does not seek temporary influence or gains...but rather sets the foundations for an eternal hegemony based on the instructions of the 'rabbis' of the secret societies. And all this is in order to take revenge on history and their minority and false persecution complex," read the op-ed.
The same piece said rabbis are "desecrating" Al-Aqsa Mosque, and "are enemies, and they have a hand in everything that is happening: in the issue of ISIS (Islamic State) and its arming, in importing explosives to the Arab lands, in the spread of extremist ideas and the deepening of the doctrinal conflict between Sunnis and Shi'ites. In addition, they are the ones creating the crises. They are the ones igniting the civil wars."
Middle East Media Research Institute (MEMRI) has exposed how despite PA Chairman Mahmoud Abbas's condemnation of the synagogue attack - a condemnation his own PA clarified was a lie as it celebrated the "heroic" attack - PA and Hamas leaders have been busy justifying the murderous attack.
The reactions to the attack on the Lebanese Al-Quds TV and Mayadeen TV channels featured such lines as "the settlers are not civilians," "synagogues represent Israeli settlements and extremism," and "Zionist rabbis...are the greatest terrorists in that racist state...these are no civilians, they are terrorists."
Fatah Central Committee member Amal Hamad also got in on the action, telling the PA's Al-Awda TV that the synagogue attack was justified given the status on the Temple Mount where the Jordanian Waqf (Islamic trust) has banned Jewish prayer and Arab rioters clash with police on a near daily basis.
"It was only natural that the outcome of all that has happened would be the operation that we witnessed yesterday," Hamad said.