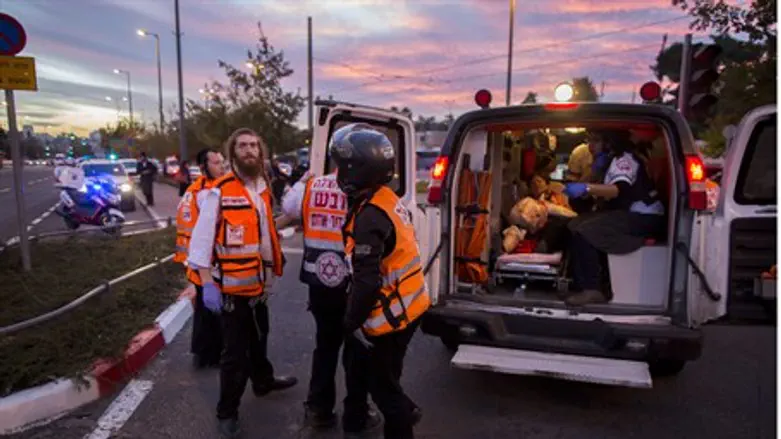 Paramedics at Jerusalem attack (illustration)
Yonatan Sindel/Flash90
Just hours after four Jews were murdered praying at a synagogue in Jerusalem's Har Nof, a young Jew in his 20s was attacked by two Arab assailants armed with iron bars in Jerusalem's Old City on Tuesday night.
The attack took place at the Old City's New Gate, located in the north-western corner of the Old City and not far from the Jerusalem Municipality building.
The two Arab attackers fell upon their victim as he was riding a bicycle, hitting him with iron bars and leaving him moderately wounded.
The youth was treated on the scene by Magen David Adom (MDA) medics and evacuated to the Hadassah Ein Kerem Hospital in the capital.
Police are searching for the two attackers, who fled from the scene of the crime.
Arab violence likewise continued unabated elsewhere in Jerusalem on Tuesday night, as dozens of masked Arab rioters hurled rocks and shot fireworks at Border Patrol forces and police forces in the Jabel Mukabar neighborhood where the two terrorists who conducted the morning's attack hailed from.
The rioters set tires and garbage bins on fire; security forces responded by using riot dispersal methods.
It should be noted that the IDF recently gave new orders allowing officers to open fire on Arab rioters who shoot potentially lethal fireworks at them. In this case, officers did not open fire to respond to the attack.
The danger of the weapon was illustrated on Monday, when an officer lost two fingers from a firework attack.
Earlier in Jabel Mukabar police set concrete blocks to close off the entrance to the neighborhood in an attempt to control the volatile district, even as the family of the two terrorists celebrated and passed out candies.