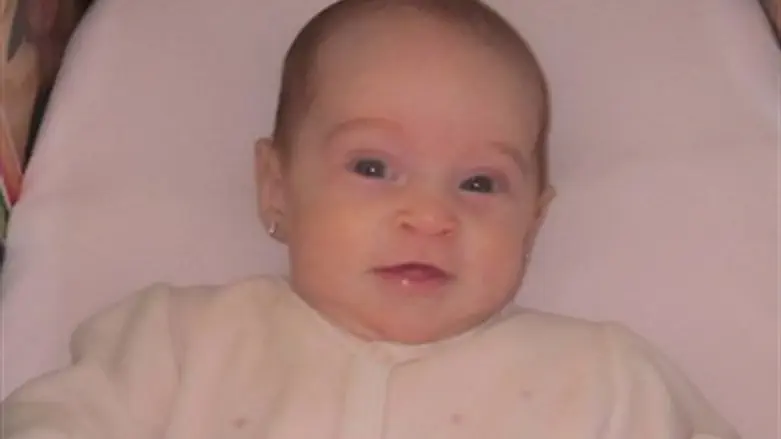 Chaya Zisel Braun
Courtesy of the family
Chaya Zisel Braun, who was murdered in the terrorist attack in Jerusalem on Wednesday, was laid to rest on Wednesday night.
The funeral was attended by hundreds of people, including President Reuven Rivlin, the Chief Rabbi of Jerusalem Rabbi Shlomo Moshe Amar and Jerusalem Mayor Nir Barkat.
Chaya Zisel's father Shmuel Elimelech led a tearful eulogy of his infant daughter.
"You were pure. I want you to look down at me and smile. Tomorrow is your three-month birthday. It's all now in God's hands. We will remember you," he cried.
Volunteers from United Hatzalah were on hand to secure the funeral proceedings.
The attack occurred when a Hamas terrorist from the neighborhood of Silwan arrived with his car at the Givat Hatachmoshet (Ammunition Hill) Light Rail stop and ran over the people who were there.
Murdered: Chaya Zisel Braun
Courtesy of the Family
Eight other people were injured in the attack. A Jerusalem police officer shot the terrorist and seriously wounded him after he attempted to flee from the scene on foot. The terrorist died in hospital later on Wednesday.
credit: אורי דיוויס ויוסי גוטהולד - חדשות 24
credit: אורי דיוויס ויוסי גוטהולד - חדשות 24
credit: אורי דיוויס ויוסי גוטהולד - חדשות 24
credit: אורי דיוויס ויוסי גוטהולד - חדשות 24
credit: אורי דיוויס ויוסי גוטהולד - חדשות 24
credit: אורי דיוויס ויוסי גוטהולד - חדשות 24
credit: אורי דיוויס ויוסי גוטהולד - חדשות 24
credit: אורי דיוויס ויוסי גוטהולד - חדשות 24