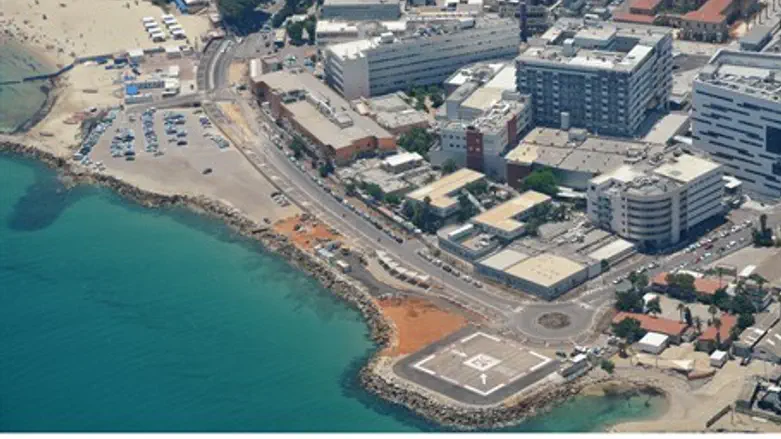 Rambam Hospital in Haifa
Flash 90
Rambam Health Care Campus in Haifa on Tuesday welcomed as a guest Dr. Richard Horton, editor of the medical journal The Lancet, who became embroiled in controversy last week for posting an "Open Letter for the People in Gaza."
Two of the primary authors of the article late last week were discovered to have promoted an anti-Semitic video by white supremacist David Duke; NGO Monitor said Horton's choice to visit Israel this week will not give him "immunity from the justifiable moral outrage of Israelis, the Jewish community, and medical professionals."
At Rambam Health Care Campus, Horton will meet senior researchers and physicians, as well as attend faculty lectures on Thursday, according to a hospital statement.
Rambam Hospital noted that Horton caused a storm with the letter that accused Israel of "cruel" and "vicious war crimes," and said the purpose of Horton's visit "is to provide a venue for academic discussions...in Israel's multicultural medical institutions that have strong medical cooperation agreements with the Palestinian Authority (PA) to treat people from the West Bank and Gaza."
"Some of the lectures and discussions will also examine the limits and appropriateness of freedom of political opinion in scientific journals, and openly consider and discuss the unilateralism of which The Lancet has been accused," added the hospital statement.
Prof. Rafi Beyar, Director of Rambam, stated ahead of Horton's visit that his institution "includes all sectors and groups in Israel."
"I believe that Professor Horton will certainly hear from impressive professional colleagues and raise questions about the publications that caused such a furor two months ago. He will be invited to express his opinion," said Beyar.
The director added "I believe he will be quite impressed and will learn that Israel's public health system does its very best to genuinely care for its neighbors, that multiculturalism and medical education is extended to health care professionals in the Palestinian Authority."
Under Horton, The Lancet has become a platform for intense political propaganda, particularly targeting Israel. The "Open Letter" was not the first such article published under the facade of scientific rigor.
Dr. Mads Gilbert, another primary author of the "Open Letter" who frequently appears in The Lancet, has made comments justifying the September 11, 2001 attacks. In addition, The Lancet published an article by Dr. Swee Ang in February of 2009 titled "The Wounds of Gaza," replete with factual errors and defamatory accusations against Israel, such as "deliberate targeting of unarmed children." It was only taken down after 28 days.