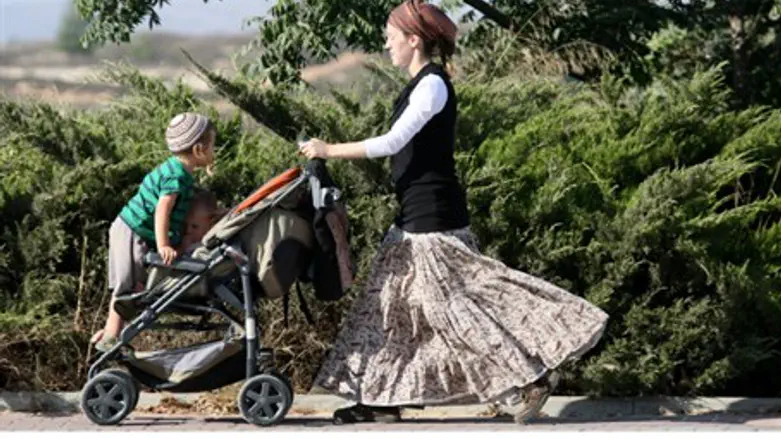 Population growth 'across the board'
Flash 90
The Jewish population in Judea and Samaria grew by an impressive 2% in the first half of 2014, according to statistics released by the Yesha Council.
The Council, which represents Jews in the Judea-Samaria region, said that between the end of December 2013 and the end of June of this year, the Jewish population rose from 374,469 to 382,031.
It noted in a statement that the two percent growth in the first six months of the year translated to more than double the rate in the rest of Israel, which currently stands at 1.9 percent annually.
That figure does not include neighborhoods and suburbs of Jerusalem built beyond the 1949 Armistice Lines, also known as the "Green Line". Some 200,000 Jews live in those neighborhoods.
The statistics were based on a survey by Cogat, the official Israeli government body which administers Judea and Samaria.
According to the report, the largest Jewish community in Judea and Samaria is Beitar Illit, a Hareidi city southwest of Jerusalem, with 63,087 residents. 
However, it appears that the most rapid growth is being generated outside of the "major settlements blocs". Whereas the four largest communities registered a growth of roughly 1.9%, smaller towns and villages in the Samaria (Shomron) region boasted a whopping 3.8%.
Yesha Council Dani Dayan told the Associated Press that the figures illustrate how despite international calls to ethnically-cleanse all or part of the region of its Jewish population, the reestablished Jewish communities in Israel's Biblical heartland are not going anywhere.
"It is clear that it is a thriving community that is here to stay," he declared.
Dayan said the population growth was "across the board" - from hareidi communities to religious-Zionist and predominantly secular ones.
The figures are all the more remarkable given that there has been a de-facto building freeze in Judea and Samaria, with Prime Minister Netanyahu being accused of caving in to international pressure to strangle growth.
Figures released by the Central Bureau of Statistics earlier this year revealed that in the same six-month period only 507 housing units were approved for building - a drop of 71.9% on the same period the year before.
The only recent period which experienced less building was in 2009, when Netanyahu acquiesced to US demands for a full nine-month building freeze to coax the Palestinian Authority to the negotiating table. 
Unsurprisingly, the figures angered the Palestinian Authority and far-left groups, with PLO spokeswoman Hanan Ashrawi attacking Israeli "lawlessness" and Peace Now's chairman Yariv Oppenheimer accusing Israel of "exporting new settlers from Israel (sic)."