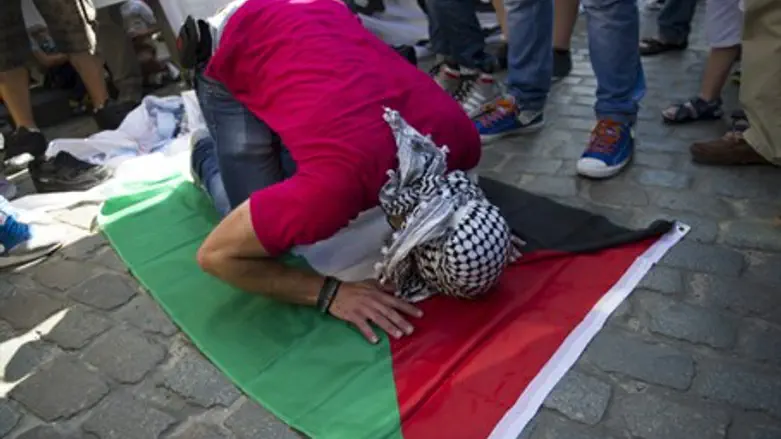 Anti-Israeli protester in France (file)
Flash90
Anti-Semitic attacks nearly doubled in France in the first seven months of 2014, the country's main Jewish group said Thursday.
A total of 529 anti-Semitic actions or threats were registered up to the end of July, against 276 for the same period last year, the Council of Jewish Institutions in France (CRIF) said, citing figures gleaned from the French Interior Ministry.
The acts included violence against individuals, arson and vandalism, and "exacerbate the growing unease that oppresses Jews in France each day and overshadows their future", CRIF said in a statement.
Yet more worrying, the group added, is the appearance of new forms of violence against Jews - including attacks by organized gangs and the targeting of synagogues, as well as acts of vandalism against Jewish businesses and planned terrorist attacks.
Meanwhile in the UK, the Community Security Trust (CST) anti-Semitism watchdog group reports 302 anti-Semitic incidents in July alone, making a whopping 400% increase over the same month last year.
The flames of British anti-Israel sentiment fanned by the government itself during Operation Protective Edge, with threats to cut 12 arms export licenses with Israel over the fighting against the terrorist group Hamas.
Likewise, radical left-wing British MP George Galloway infamously declared his city of Bradford in northern England "Israeli free."
Back in France, last week the French office of the Jewish Agency for Israel revealed that France was leading the world in aliyah (immigration) to Israel, the first time it has held that position. 
In reporting the figures the Jewish Agency cited a "climate of anti-Semitism that is losing its taboo," and added "in the Western or free world, we've never seen one percent of the Jewish community emigrating to Israel."
Indeed, a full 1% of France's 500,000-600,000 Jews are on pace to make aliyah in 2014. France's Jewish population is the third largest in the world after Israel and the United Stated.
France is also home to Europe's largest Muslim community, assessed at roughly five million, which has been a large source of the anti-Semitic violence in that country.
The attacks in France include the murders of a rabbi and three Jewish children by an Al-Qaeda inspired gunman Mohammed Merah in 2012 in the southern city of Toulouse.
The anti-Semitism has flared particularly intensely during Operation Protective Edge, with violent protests in Paris. In a similar incident, hundreds of Muslim extremists attacked a major synagogue in Paris, provoking clashes with Jewish youths who rushed to defend the site and worshippers trapped inside.
A World Zionist Organization study in August found that the number of anti-Semitic incidents in the world jumped 383% in July as compared to the same month the previous year, with Europe showing a 436% increase.