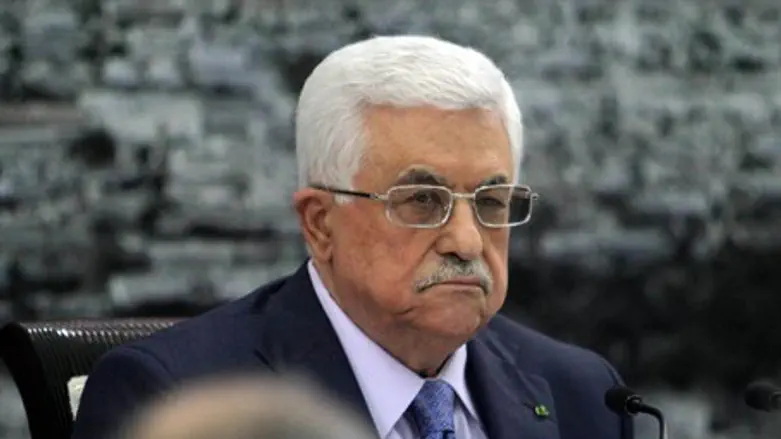 Mahmoud Abbas
Flash 90
Palestinian Authority (PA) Chairman Mahmoud Abbas on Sunday once again threatened to pursue Israel through the International Criminal Court (ICC) in the Hague, Kol Yisrael radio reported.
Speaking at a meeting of his Fatah faction in Ramallah, Abbas reportedly said that unless Israel agrees to discuss a Palestinian state along the indefensible pre-1967 borders, he would work to have the PA hundreds of treaties and international bodies, including the ICC.
The PA has been trying to join international treaties, part of its unilateral push to gain statehood without negotiating with Israel, a direct violation of the Oslo Accords.
In April, the PA requested to join 15 international agencies in breach of the conditions of the peace talks that were going on with Israel at that time.
In response, Israel cancelled the fourth terrorist release "gesture" and subsequently pulled out of the talks altogether, after the PA signed a unity pact with Hamas.
Most recently, aides to Abbas revealed that he will soon appeal to the international community to set a deadline for Israel to withdraw back to the pre-1967 borders and make way for an independent Palestinian state.
PA leaders have also more than once threatened to take action against Israel at the ICC.
The PA's Foreign Affairs Minister, Riyad al-Maliki, recently met with ICC officials and inquired about the legal procedures necessary for the PA to join the ICC and sign the Rome Statute, thus allowing it to take action against possible Israeli war crimes in Gaza.
PA officials realize, however, that joining the ICC is a calculated risk because it would give Israel a forum to pursue war crimes charges against the PA as well and particularly against Hamas.
In a recent interview, the PA's envoy to the United Nations Human Rights Council (UNHRC) admitted the PA has no hope of pressing charges against Israel in international courts - because Palestinian terrorist groups are far worse violators of international law themselves.
Noting concerns that Israel could launch legal offensives of its own against the PA should it sign up to the ICC, the presenter asked whether such a move would be realistic. The response was unequivocal.
"The missiles that are now being launched against Israel - each and every missile constitutes a crime against humanity, whether it hits or misses, because it is directed at civilian targets," he said.