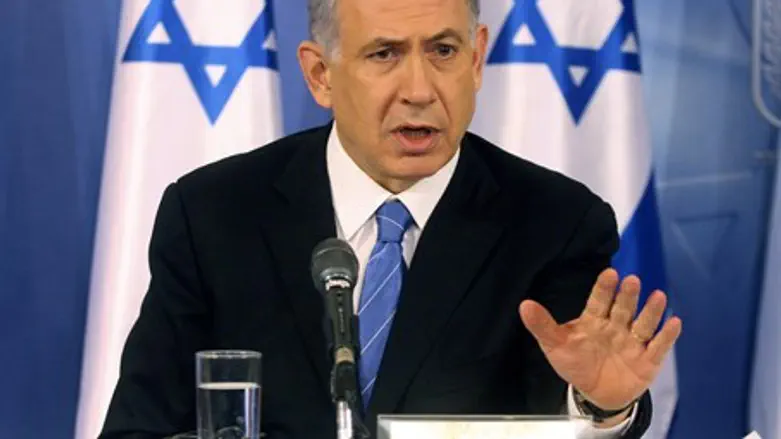 Binyamin Netanyahu
Flash 90
A new poll released by the Hebrew-language Channel 2 news site on Monday reveals that Prime Minister Binyamin Netanyahu's approval rating has fallen as a "casualty" in the faltering Operation Protective Edge.
The poll, conducted by Shiluv Millward Brown and iPanel for the news source, found in the last four days Netanyahu's support has taken a sharp nose-dive.
A mere 38% of Israelis responded that they are satisfied with Netanyahu, as opposed to 50% who are dissatisfied. Just four days earlier, Netanyahu's approval rating stood at 55%.
The sudden dive corresponds to a period during which four-year-old Daniel Tragerman hy''d was murdered by mortar fire in his Kibbutz Nahal Oz home last Friday, possibly contributing to a feeling of government neglect in providing security to its citizens.
The poll adds that three weeks ago Netanyahu's support was at 63%; towards the beginning of the operation early last month when the IDF began its ground entry to Gaza that it later withdrew, that support was at a whopping 82%.
A University of Haifa poll late last month likewise found that Netanyahu's support had spiked at the start of the operation, showing that 65% were "very satisfied" with Netanyahu's handling of the operation, 20% were "satisfied" and only 10% "not satisfied."
However, that support has dipped as Netanyahu continues to be unable to take decisive action against Hamas in an operation that started July 8, while making numerous ceasefire agreements that Hamas repeatedly breaks, and "softening" ministers to Israeli concessions.
Ironically, US President Barack Obama told the New York Times earlier this month in an interview that Netanyahu had too much public support, and that he needed internal pressure - not to defend Israel, but rather to make land concessions to the Palestinian Authority (PA).
Disapproval over an abandonment of the south
A cause for the growing disapproval was touched on in the Channel 2 poll, which found that 68% of Israelis feel the government's treatment of residents of the Gaza Belt region has been bad, as opposed to a mere 24% who feel enough has been done to secure them.
Around 80% of Gaza Belt residents have been forced to flee their homes for over a month and a half during the operation; the parents of four-year-old Daniel Tragerman announced Monday that they would be permanently leaving their home in Kibbutz Nahal Oz after their son's murder.
Another point of contention is the school year, which is set to begin next week. Education Minister Shai Piron (Yesh Atid) has insisted the school year will start as scheduled, but several local regional councils are refusing the government's orders in light of the security situation, accusing it of ignoring their reality.
Only 18% of respondents to the poll agreed with opening the school year as normal throughout Israel, with 63% saying only the southern region should remain closed, and 15% saying as long as the security situation continues the school year should not begin anywhere in Israel.
There has been growing unrest against the government for not defining clearer goals in the operation to take decisive action and remove the security threat from Gaza, an unrest expressed recently by protesters, Former IDF Chief Rabbi Avichai Ronski, ex-MK Dr. Michael Ben-Ari and many others.
Barak Seener, an Associate fellow at Britain's Royal United Services Institute for Defense and Security Studies, told Arutz Sheva on Monday that Israel is "choosing not to win" the war in Gaza, saying the Jewish state "should not subject itself to norms and procedures that no military of any western liberal democracy would ever consider."