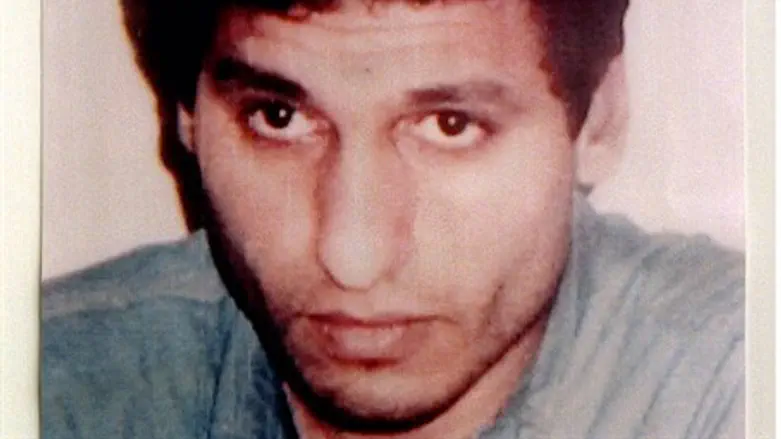 Hamas leader Mohammed Deif circa 1990s
Reuters
An Israeli diplomatic source confirmed Wednesday morning to Walla! that Israel tried overnight to eliminate Mohammed Deif, the head of Hamas's "military wing," the Ezzedine Al-Qassam Brigades.
Hamas has claimed that five bunker-buster bombs were fired by Israel targeting the elusive mastermind behind Hamas's terror war.
"The wife of the great leader (Deif) was martyred with his daughter," wrote Hamas leader Moussa Abu Marzouk on his Facebook page Tuesday night, not indicating the fate of Deif himself.
Hamas emergency services spokesman Ashraf al-Qudra later modified the appraisal, saying Deif's second wife Widad (27) and seven-month-old son Ali were killed in the strike, in addition to an unidentified man.
While Deif's condition is currently unknown, local health officials quoted by Reuters likewise said three people were killed in a strike on a house in Gaza City, including a child and a woman, possibly Deif's wife and son. The third death was not identified, leaving speculation open that the IAF may in fact have hit its mark.
That speculation was given extra room later when al-Qudra revised the toll down to just the wife and son, without explaining why, reports AFP
Interior Minister Gideon Sa'ar (Likud) commented on the latest attempt to end Deif's life; the terrorist leader has until now evaded five IDF assassination attempts, losing both of his legs in one airstrike.
Deif "is exactly like (former Al Qaeda leader Osama) Bin Laden," appraised Sa'ar, speaking to Galei Tzahal (IDF Radio). "This is an arch-murderer. Where there is an operational opportunity to eliminate him - it must be taken."
Sa'ar called for the Cairo truce talks to end, after the Israeli delegation was pulled Tuesday following the ceasefire breach.
"You can achieve quiet through a war of attrition, and you can achieve it through a ground operation into Gaza City," said Sa'ar. "The goal has to be breaking the military strength of Hamas, or subduing Hamas."
Opposition leader and Labor Chairperson Yitzhak Herzog had a different take on Israel's path forward, saying that while military strikes were justified, Israel should still continue to pursue diplomatic channels.
"We are in an additional round of conflict. Certainly Israel must take off the gloves and give the required blow to bring Hamas back to the process of truce talks, as I think the talks need to be an international platform and not just a negotiation in Cairo," stated the leftist MK.