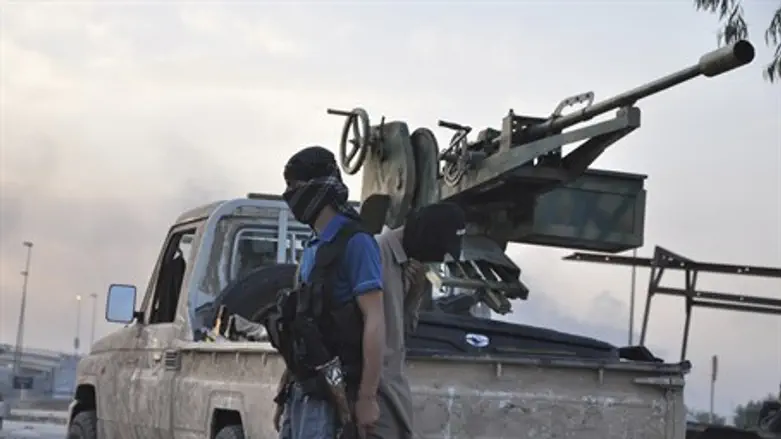 Islamic State terrorists (file)
Reuters
The US State Department blacklisted a senior terrorist in the Islamic State (IS; formerly known as Islamic State in Iraq or the Levant, or ISIS/ISIL) on Tuesday, designating him as a "Specially Designated Global Terrorist" and prohibiting transactions with him under US law.
"The Department of State designated Abu Mohammed al-Adnani as a Specially Designated Global Terrorist under Executive Order (E.O.) 13224, which targets terrorists and those providing support to terrorists or acts of terrorism," the Department stated Tuesday. "The consequences of this designation include a prohibition against U.S. persons engaging in transactions with al-Adnani, and the freezing of all property and interests of al-Adnani that are in the United States, or come within the United States or the possession or control of U.S. persons."
A United Nations (UN) blacklist has been implemented as well. 
"Along with al-Adnani's U.S. designation, he will be added to the UN 1267/1989 Al Qaeda Sanctions list, requiring all member states to implement an assets freeze, a travel ban, and an arms embargo against al-Adnani," the State Department added. 
"Abu Mohammed al-Adnani, born Taha Sobhi Falaha in Syria, is the official spokesman for and a senior leader of ISIL.  Al-Adnani is ISIL's main conduit for the dissemination of official messages, including ISIL's declaration of the creation of an Islamic Caliphate.  Al-Adnani was one of the first foreign fighters to oppose Coalition forces in Iraq before becoming ISIL's spokesman." 
The Sunni Muslim group follows Al-Qaeda's hard-line ideology, but is not affiliated with Al-Qaeda which has renounced ISIS.
It seeks to re-create a medieval-style caliphate erasing borders from the Mediterranean to the Gulf. It deems Shiite Muslims to be heretics deserving death and has committed genocide against a number of ethnic minorities in Syria and Iraq, including Bedouin and ethnic Yazidi. 
IS's genocide sparked so much concern that the US recently launched a number of airstrikes against the terror organization, sparking fears of a full-fledged ground offensive into Iraq.
In response, the group stepped up its anti-Western and anti-American ideology, threatening Tuesday to "Drown Americans in Blood."