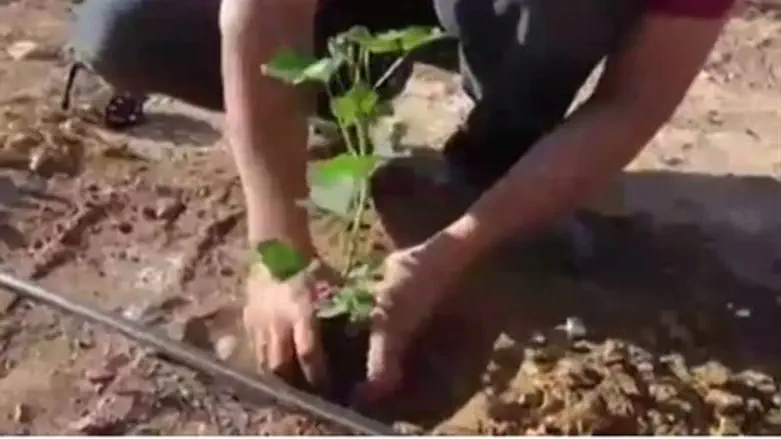 "HaYovel" volunteers helping Israeli farmers
Yoni Kempinski
At a time when some visitors to Israel have been rethinking their travel plans to Israel in light of ongoing hostilities with Gazan terror groups, some 500 Christian volunteers will be traveling to the Jewish state to support farmers in Judea and Samaria this summer - and they say they're coming no matter what.
Members of the HaYovel organization say that far from making them reconsider their yearly plans to help farmers work their land, the war has left them more committed than ever to supporting Israeli farmers at such a difficult time.
One of the group's organizers, American Zac Waller, said he was "really excited" to be bringing hundreds of volunteers over next three months.
"Right now is the most important time to support Israel," Waller insisted.
Brayden Waller - another HaYovel leader - noted that this year's work was made all the more important given that it comes before the "Shmitta" year, the last of a seven-year agricultural cycle during which the Torah requires Jewish farmers in Israel leave their land fallow.
Volunteers have signed up from as far as the US, Canada, Norway and New Zealand, among other countries.
Yaakov Berg - CEO of Psagot Winery in the Binyamin Region of southern Samaria (Shomron), just north of Jerusalem, explained how apart from boosting morale, the volunteers were actually filling a crucial gap in manpower, at a time when many of his workers had been drafted into the IDF's military reserves.
Berg praised the efforts of Hayovel volunteers, describing their actions as helping Israel's war effort against Islamist terrorists in Gaza.
"The economy is part of the war - if the economy is strong then the government has the power, the energy to do what needs to be done."