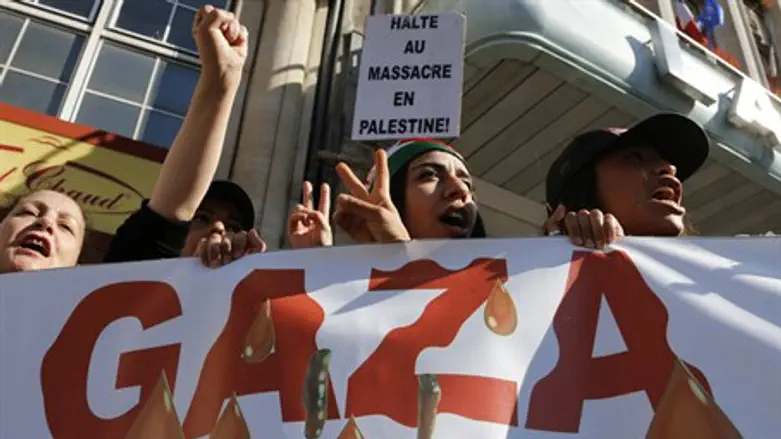 Anti-Israel protests have exploded in Europe
Reuters
The communications center of the World Zionist Organization has found that there has been a dramatic increase in anti-Semitic incidents around the world.
Sunday's announcement comes following a study of the number of anti-Semitic incidents that occurred before Operation Protective Edge in Gaza and after it began.
In July 2014, the study found, there were about 318 anti-Semitic incidents, compared to 66 over the same period in 2013, marking an increase of over 383% in cases of anti-Semitism.
Among the regions of the world looked at in the study were Europe, South America, South Africa, Mexico, Central America, Oceania, the United States and Canada.
According to reports, there was a significant increase of 436% in anti-Semitic incidents in Europe, a 1200% increase in anti-Semitism in South America, an increase of 600% in South Africa, an increase 800% in Oceania, an increase of 127% in the United States and an increase of 100% in Canada.
Anti-Semitic attacks included physical assaults, such as last week's incident when teenagers stormed a school bus in Sydney, Australia; throwing rocks at police officers during an anti-Israel protest in France; attacking Jews with a baseball bat in Paris; firebomb attacks on Jewish properties in Toulouse and Germany; vandalizing cars in Miami Beach, Florida; throwing smoke grenades Budapest, and other incidents.
According to the head of the Department for Activities in Israel and Countering anti-Semitism of the World Zionist Organization, Yaakov Hagoel, "The ongoing incitement against the State of Israel in the world media, the joining of various 'human rights' groups with pro-Arab organizations and neo-Nazi institutions, is translated by an angry and brainwashed mob into anti-Semitic incidents in which Israeli flags are burned, mezuzot are uprooted from homes of Jews, Jewish shops around the world are torched, and the delegitimization of Israel undermines the security of hundreds of thousands of Jews around the world."
"It is 2014 and it seems as though we are living on the eve of World War II - before the Holocaust. The dimensions are enormous and incomprehensible," he continued.
United Nations Secretary General Ban Ki-moon said last week that the conflict in Gaza should not be an excuse for anti-Semitic slurs and attacks.
Ban "deplores the recent upsurge in anti-Semitic attacks, particularly in Europe, in connection with protests concerning the escalation of violence in Gaza," read a statement from the UN leader's spokesman.
"The Secretary-General emphasizes that the conflict in the Middle East must not constitute a pretext for prejudice that could affect social peace and harmony anywhere."