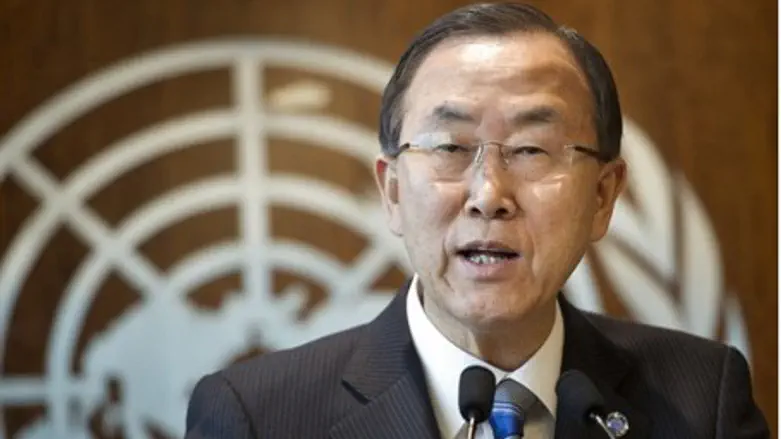 UN Secretary-General Ban Ki-moon
AFP photo
The conflict in Gaza should not be an excuse for anti-Semitic slurs and attacks, United Nations Secretary General Ban Ki-moon said late Sunday.
Ban "deplores the recent upsurge in anti-Semitic attacks, particularly in Europe, in connection with protests concerning the escalation of violence in Gaza," read a statement from the UN leader's spokesman.
"The Secretary-General emphasizes that the conflict in the Middle East must not constitute a pretext for prejudice that could affect social peace and harmony anywhere."
Ban "firmly believes that the conflict needs to be solved through an immediate cessation of violence and negotiations," the statement read.
Ban's statement surfaces weeks after hundreds of anti-Semitic incidents were recorded worldwide, including throughout Europe, in the UK, and in multiple places in the US. 
Pro-Palestinian marches throughout the globe have become common, and often feature anti-Semitic chants or waves of violence - before, during, or after the demonstrations. 
France, in particular, has become a hotbed of anti-Semitic violence, with multiple violent demonstrations and ineffective police presence compounding the problem. 
At least some of the violence has stemmed from the international community's condemnation of Israel over its self-defense operation, including the vilification of the Jewish state by the UN and its various organizations - which has then trickled down into most mainstream media outlets. 
It is unclear whether this belated acknowledgement of the rise in anti-Semitism stems from Israel's announcing a seven-hour ceasefireon Monday, amid world outrage over a deadly strike on a UN school that was likely being used as Hamas headquarters. 
The IDF has previously provided video evidence that Hamas fires rockets from inside schools and it is also known that Hamas has also been using UNRWA schools as storage sites for its rockets. For the third time in recent days, such a stockpile was discovered in a UN school Tuesday.