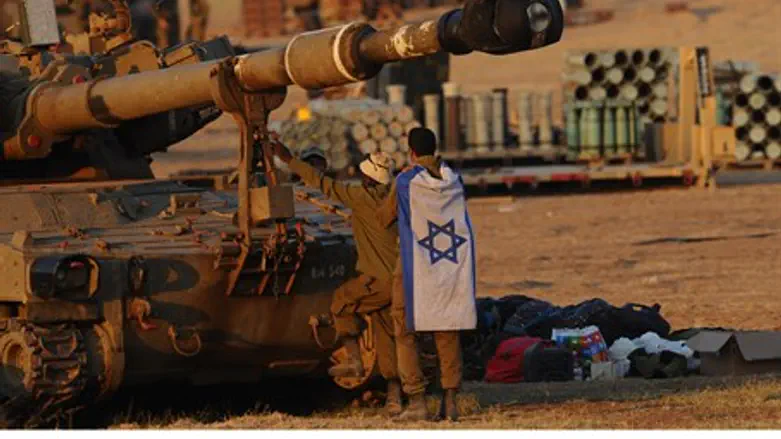 Israeli soldiers at the border with Gaza
Flash 90
The IDF Spokesperson has cleared for publication that five soldiers were killed Thursday evening while performing operational activities near the border with Gaza.
According to the IDF statement, there was high trajectory fire (usually meaning rockets or mortars) towards the soldiers.
The names of the five have not yet been cleared for publication.
As well, the IDF said, 19 soldiers were wounded on Thursday as part of Operation Protective Edge. Their families have been informed.
Since the beginning of the operation, 61 officers and soldiers have been killed.
Among the 61 dead are three soldiers who were killed when explosives detonated within a booby-trapped UN building in Khan Younis on Wednesday.
Over eighty kilograms of explosives were built into the UN-funded hospital's walls themselves, it was cleared for publication Thursday - revealing that the clinic itself was built to mask, and perform, potential acts of terror on the IDF.
Moreover, the clinic was built over tens of terror tunnels, according to the report.
News of the latest deaths comes hours after U.S. Secretary of State John Kerry announced that Israel and Hamas have agreed to a 72-hour ceasefire, starting Friday morning at 8:00 a.m.