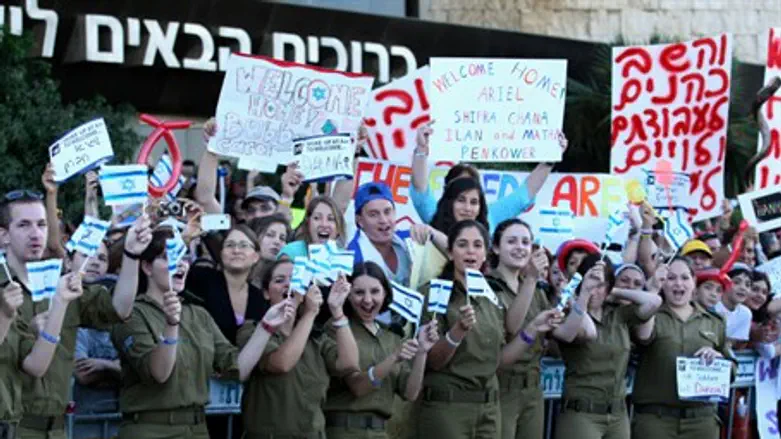 IDF soldiers welcoming immigrants (illustrati
Flash90
Since the beginning of Operation Protective Edge, some 475 new immigrants have arrived in Israel – and another 400 are expected in two days. Speaking at a meeting of the Knesset State Control Committee, Immigration and Absorption Minister Sofa Landver said that the immigrants had arrived from a wide variety of countries, including the US, the UK, and France, and had been sent to live in areas around the country, including in the south.
Speaking at the Committee, Landver said that the Nefesh B'Nefesh (NBN) organization, which helps Jews in North America immigrate to Israel, was "doing wonderful work. The decision to leave the United States is a difficult one, but we will support any organization that brings Jews to Israel. In the near future we will begin a campaign in France to help Jews there become familiar with the possibilities for housing and employment in Israel." Four hundred new immigrants are expected in two days time, she said. 
The Committee called on the government to relax the criteria for funding Aliyah organizations and suggested providing funding for the organizations based on the number of people they were assisting in moving to Israel.
MK Yoni Chetboun (Jewish Home) said that Israel's strength and security could be found in the numbers who come to Israel.
By the end of 2014, he said, some 6,000 Jews will have immigrated from France, but between 2005-2012, 95% of funding for aliyah was earmarked for assisting Jews from the US and UK to move to Israel.
"No aliyah should be taken for granted," said Chetboun. "We mustn't say 'they are going to move to Israel anyway.' The main thing is to ensure the proper and successful immigration and absorption of olim."
"In recent years we have had 1,900 immigrants from France each year," said Oded Forer, Director of the Immigration and Absorption Ministry. "Now we are seeing some 5,000 people coming from France each year. We are raising money for them, as well as for other Jews immigrating from other European countries, specifically Ukraine," he said.
MK Amnon Cohen, Chairman of the Committee, said that "each immigrant is a work unto him or herself. The successful absorption of each family is a major success. Unrest and instability, as well a anti-Semitism can break out anytime, anywhere – whether in France, Ukraine, or anywhere else," he said.