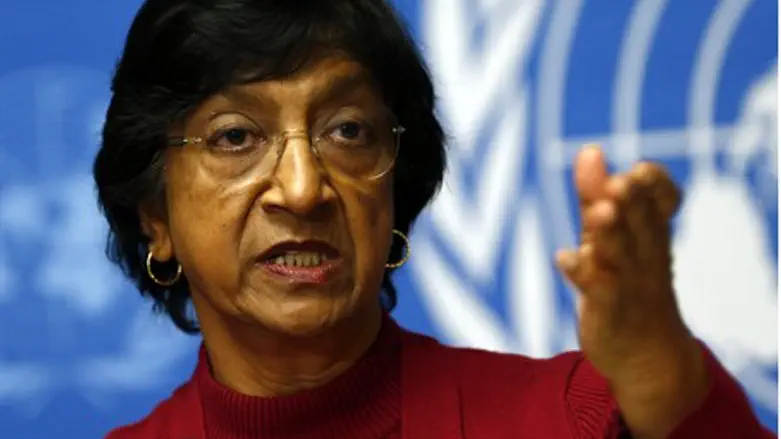 UN Human Rights chief Navi Pillay
Reuters
UN High Commissioner for Human Rights Navi Pillay attacked Israel's right to defend itself on Friday, casting into doubt Israel's right to stop the constant rocket fire from Gaza under international law. 
"We have received deeply disturbing reports that many of the civilian casualties, including of children, occurred as a result of strikes on homes," Pillay stated. "Such reports raise serious doubt about whether the Israeli strikes have been in accordance with international humanitarian law and international human rights law." 
A spokesperson for the UN added that, despite the fact that Hamas is deliberately using human shields, there is no 'legitimate' reason to strike homes in Gaza - terrorists or not. 
"Buildings that are ordinarily used for civilian purposes, such as homes, are presumed not to be legitimate military targets," said spokeswoman Ravina Shamdasani. "Even when a home is identified as being used for military purposes, any attack must be proportionate... and precautions must be taken to protect civilians."
It should be noted that a Hamas spokesperson called for Gaza residents to act as human shields on live television earlier this week, calling the move "an effective strategy" in the PR war against Israel and encouraging Palestinian Arabs to stay in their homes despite IDF warnings to prevent casualties. 
The international community has remained silent over the strategy, however, despite the fact that the Hamas-Fatah unity government in the Palestinian Authority joined several international agencies and human rights groups earlier this year. 
By contrast, video footage from within Gaza indicates that the IDF has been careful not only to target only those homes marked as terrorists' dwellings, but also to warn surrounding residents to stay in safe areas during a targeted airstrike. 
Meanwhile, the IDF has successfully hit at least 7 Hamas targets since Friday morning, a senior official stated to IDF Radio Friday evening, after over 75 rockets have been fired on Israeli soil since the early morning hours. 
The official stressed that Operation Protective Edge has shown some success so far, with over 2,000 rockets estimated to have been destroyed in IAF airstrikes this week.
"Presumably the day after [the operation ends], Hamas will ask themselves why they should have this conflict [at all]," the official added.