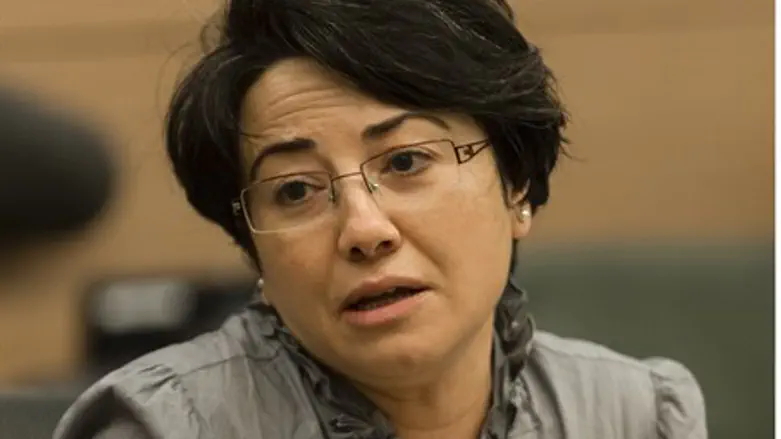 Hanin Zoabi
Flash 90
Knesset Chairman MK Yuli Edelstein (Likud) may have said Monday that he can't dismiss Arab MK Hanin Zoabi (Balad) from the Knesset for her shocking comments justifying the abduction of three Israeli teenagers - but one plucky restaurant owner decided to dismiss her from his establishment.
In a video filmed on a cell phone, the Arab MK can be seen being kicked out by the owner, who called her "traitor" several times in the course of the interchange.
At the start of the video, the owner can be heard asking Zoabi sarcastically if they don't have his restaurant in Gaza, to which she responds by saying "no, they're bombing in Gaza."
The owner then tells her he's kicking her out, calling her "you little traitor. I can do it (remove you), it's my democratic right."
After Zoabi shouts back, the owner continues "that's what it is, if you talk like that definitely that's what you'll get. You don't deserve equality." After a momentary silence, the owner again calls her "traitor."
Zoabi sparked rage last Tuesday in a radio interview, justifying the terrorists who abducted Naftali Frenkel (16), Gilad Sha'ar (16) and Eyal Yifrah (19) two weeks ago.
Speaking about the terrorist kidnappers, Zoabi said "they are not terrorists, I do not agree with you! They have seen no other way to change their reality and they have to resort to these measures until Israel sobers up a bit and feels the suffering of others."
The police on Sunday recommended investigating Zoabi over her comments.
Zoabi's tone got even wilder on Monday, when she said "I did not break any laws. On the contrary - I am fulfilling my moral, human and political duty, the obligation for which I was sent to the Knesset: to fight oppression, and for justice."