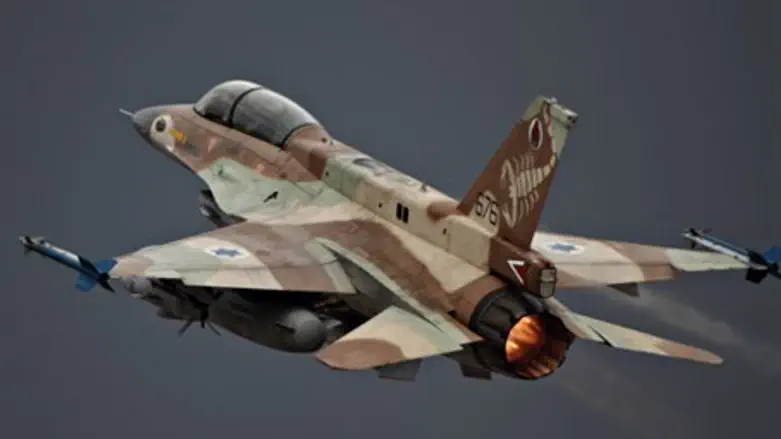 IAF F-16 (illustrative)
Flash 90
The government of Bashar Assad in Damascus on Monday condemned as a "flagrant violation" of its territory Israeli air raids that reportedly killed 10 Syrian soldiers overnight near the Golan Heights.
"The Israeli occupation forces on Sunday and Monday carried out a new attack against positions inside Syrian territory, which constitutes a new, flagrant violation of the 1974 Separation of Forces Agreement, of the UN charter and international law," Syria's foreign ministry said in a statement.
Israeli warplanes killed at least 10 Syrian soldiers during the raids, the Syrian Observatory for Human Rights (SOHR) said, after a teenager was killed in a blast on the Israeli-held side of the plateau.
"Nine missiles were fired by aircraft and at least two tanks and two artillery batteries were destroyed," said the SOHR.
On Sunday, Syrian soldiers fired a mortar shell or another explosive into the Golan, killing a 15 year-old boy and seriously injuring several Israelis, including the dead boy's father, a civilian subcontractor for the Ministry of Defense. 
The IAF retaliated to the terror attack - which saw the first Israeli killed in the Syrian Civil War since its outbreak in 2011 - with airstrikes on Syrian military positions near the border town of Quneitra. 
Syria has claimed that the Israeli act of self-defense is a "violation of international law." Late Sunday, Syria's Deputy Foreign Minister, Faisal Mekdad, asked the United Nations to take actions against Israel, claiming it violated the 1974 ceasefire agreement in the Golan Heights.
Mekdad asked the UN Security Council to take prompt measures against Israel and the countries backing terrorist groups, adding that "these violations are not only a flagrant breach of the agreement, but also a threat that puts at risk the safety of the UN personnel."