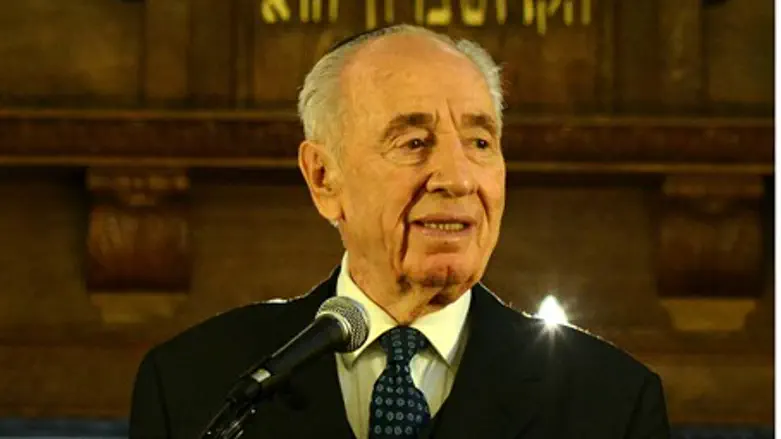 Shimon Peres at the Oslo Central Synagogue
Haim Zach/GPO
On a visit to Norway Sunday, President Shimon Peres discussed another trip he took to the country more than 20 years ago, when he helped forge the controversial Oslo Accords.
"I have good memories of Oslo," said Peres. "I am hopeful that we will be able to complete the peace process that we started here, a peace based on the two-state solution."
Many officials have called to cancel the accords and return to the period before them, a call which particularly resounds following the unity deal between the Palestinian Authority (PA) and the terrorist organization Hamas in late April.
Peres was in Oslo to meet Norwegian government officials, including the country's prime minister and the chairman of the country's parliament. Peres will also address the Norwegian Parliament, in addition to having an audience with Norway's King Harold.
On his first stop in the country Sunday, Peres visited Oslo's Great Synagogue. There, Peres discussed the connection between Israel and the diaspora communities.
"As President of Israel I m proud to see a strong, traditional community here," Peres said at the synagogue. "We never dreamed that state we created would be bigger than Norway, and a pioneer in technology and science."
"We have never lost our will and hope for peace, and we never will," Peres added.
Many Israelis are unlikely to share Peres's happy memories of Oslo. The failed accords with the Palestinian Authority paved the way for the bloody Second Intifada in which Palestinian Arab terrorists killed more than 1,000 Israelis, most of whom were civilians.
Meanwhile, last week officials in the Prime Minister's Office (PMO) denied Peres's claims on Independence Day that he had reached a peace agreement with PA Chairman Mahmoud Abbas three years ago.