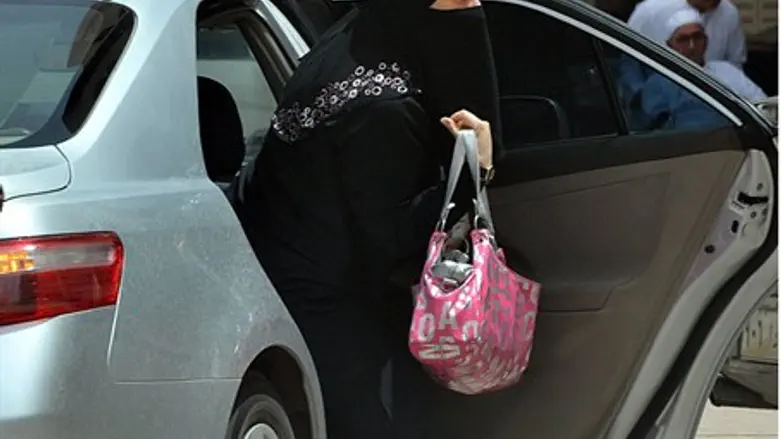 Saudi woman gets out of car
AFP photo
For the first time in Saudi Arabia, a woman has been named editor-in-chief of a daily newspaper published in the kingdom, The Associated Press (AP) reported on Sunday.
According to the report, the English-language Saudi Gazette announced on its website that Somayya Jabarti will take the helm at the newspaper.
Her predecessor Khaled Almaeena wrote on Sunday that Jabarti has worked with him for almost 13 years and is a determined and dedicated journalist.
He wrote in the Saudi Gazette that "it was not a question of gender but of merit that decided and earned her this opportunity."
Jabarti was formerly deputy editor-in-chief at the newspaper she now leads.
While a woman being appointed an editor of a newspaper would not make news in most modern countries, Saudi Arabia, with its religious police enforcing Sharia law, has a far from stellar record on women's rights. Indeed, women are forbidden from driving.
A long-standing campaign aimed at getting the Saudi Arabian driving ban lifted has urged women to defy the ban. In past situations where women were caught driving, their male relatives were asked to sign statements saying they would not allow the women to drive again.
Many women have driven since the campaign was launched in 2011, some of them have posted videos of them doing so, and many have been arrested and forced to sign a pledge that they will never drive again.
The news of the first female newspaper editor in the kingdom follows an announcement about the first female lawyer in Saudi Arabia last month.
Bayan Zaharan, the daughter of a Saudi businessman, became Saudi Arabia's first female lawyer thanks to a royal decree, which has begun opening up the profession to women.