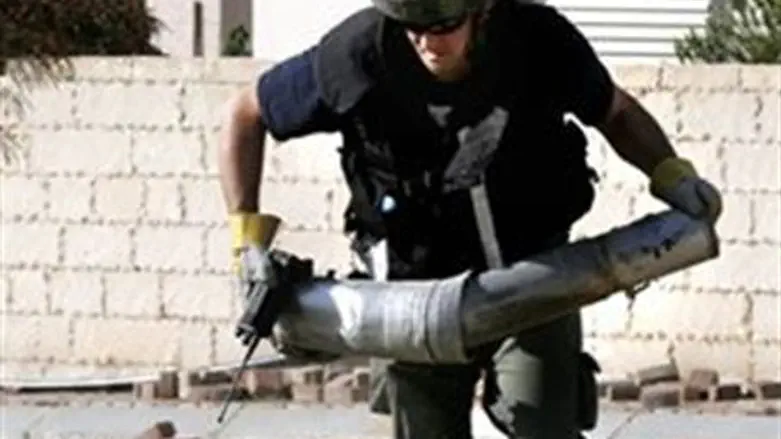 Kassam rocket
Israel news photo: Flash 90
Gazan Arab terrorists "saluted" Ariel Sharon on the occasion of his funeral Monday by firing two rockets at the Negev Monday afternoon. The rockets hit an area north of Sderot at about 4 p.m., several hours after Sharon's funeral concluded. There were no injuries and no damage reported.
"Two projectiles landed in an open area in the Shaar HaNegev region," an IDF spokeswoman told AFP, referring to the area around the northern border with Gaza, without specifying exactly where they struck. Sderot, which lies very close to the Gaza border, is located just four kilometres (2.5 miles) west of Sycamore Ranch.
Earlier in the day, Gaza Arab terrorists fired several rockets. However, the IDF said that those rockets were aimed at the sea, and were apparently "test shots".
Attending the funeral were officials from the Britain, Russia, the U.S., and 15 other countries, with Vice-President Biden representing the United States. Security for the funeral was among the tightest for any in Israel's history. Hundreds of soldiers and police were on hand, and helicopters, light planes, and drones flew above the funeral procession as it works its way south from Jerusalem to Sharon's Negev ranch.
The Iron Dome system was also on alert. The IDF issued a warning to Hamas, threatening to take immediate and strong action against the terror group if Gaza Arab terrorists attacked Israel during the funeral.
The unprecedented security, said MK Moti Yogev (Jewish Home) on Monday, just how much of a mistake the 2005 disengagement was. "The drones, the Iron Dome, the planes, the soldiers – all the security – would not be necessary if Israel was still in control of Gaza, instead of Hamas."