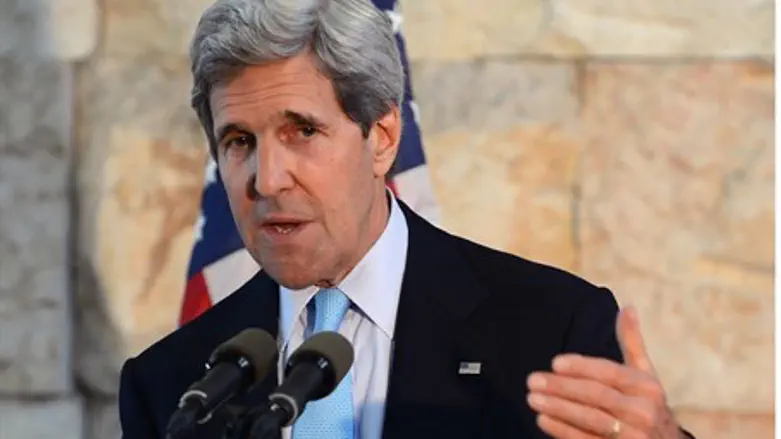 John Kerry
Flash 90
US Secretary of State John Kerry will return to the Middle East next week for talks with Palestinian Authority (PA) and Israeli officials, a PA source confirmed to AFP Saturday. 
"Mr. Kerry has told the Palestinian Authority he will return to the region on January 4, 2014 to discuss the peace process and negotiations with Israel," the official stated, on condition of anonymity. 
The news agency cites "a well-informed Palestinian source" who confirmed that the US chief diplomat plans to stay in the Middle East for a "number of days." This will be Kerry's tenth visit since March 2013. 
Kerry, who helped to launch nine-month direct talks between the two sides in July, insisted this month that concrete progress had been made in the peace talks.
But he said details would be kept under wraps as talking about any agreements could be counterproductive.
"I'm personally encouraged that very tough issues are beginning to take shape," he said in an interview with ABC television on December 15. "But we've agreed not to be talking about what we're doing because it just creates great expectations. It creates pressure. It creates opposition, in some cases."
"I think it's much better for us to do exactly what we've been doing, which is negotiate quietly and privately," he added.
Israeli and Arab media reports say the plan envisaged by Washington would see Israel maintain a military presence in the Jordan Valley, in eastern Samaria (Shomron) for 10-15 years after a peace agreement with the PA. 
Israeli withdrawals in the plan appear to include large parts of Judea and Samaria, as the new report mentions Kerry's intentions to build a massive border fence in the area.
Regarding the security threat posed by what is feared by many to become a terror state in Judea and Samaria, Kerry's plan would have the IDF deploy drones over the area to monitor terrorist activities and gather information.
While Israel has said Kerry's plan could be an opening for negotiations, PA Chairman Mahmoud Abbas has rejected the plan, and called an Arab League emergency meeting in which Arab states rejected the plan as well.
Despite both sides opposing such a deal, rumors have surfaced that Kerry will seek to "force" the plan on Netanyahu next month.
Under the US-brokered deal that led to the relaunch of the talks, Israel is to release a further 26 Palestinian terrorists on Monday.
Israelis - especially bereaved families - continue to express outrage at the move. Many say that the terrorist releases set a precedent, encouraging more terrorism without the threat of punishment or retaliation. The Supreme Court rejected on Thursday a petition seeking a temporary restraining order on the release.  
Israel agreed to free a total of 104 Palestinian prisoners during the peace talks, and has already released 52 in two separate batches. After the third group is released, the remaining inmates are due to walk free in March 2014.
The previous releases in August and October were accompanied by Israeli announcements of fresh construction in Judea and Samaria. Israeli Prime Minister Binyamin Netanyahu is expected to announce plans next week for a further 1,400 Jewish homes.
Previous announcements on construction raised the ire of the PA, which demanded that Israel cancel any tenders it has issued for new construction or the talks would be over.
The PA has repeatedly slammed Israel's planned construction in Judea, Samaria and Jerusalem, despite the fact that it was informed in advance that Israel will continue to build as talks continue. The areas in which Israel plans to build are areas that even the PA has previously accepted will be part of Israel in a future deal.
On Wednesday night, when reports of the new planned construction were made public, PA officials accused Israel of "killing the peace process." They have also threatened to appeal to the International Criminal Courts over the issue, accusing Israel of "war crimes."
Meanwhile, a senior European Union (EU) official issued a direct warning to Netanyahu on Thursday, saying that the EU would not tolerate new construction in Judea and Samaria.
Maariv reported on Thursday that Netanyahu had initially agreed to appeals by the US and EU to delay an announcement of new construction, but changed his mind under pressure from his coalition partners in order not to project a "signal of weakness." In response, Abbas has made a direct appeal over the issue to Kerry.