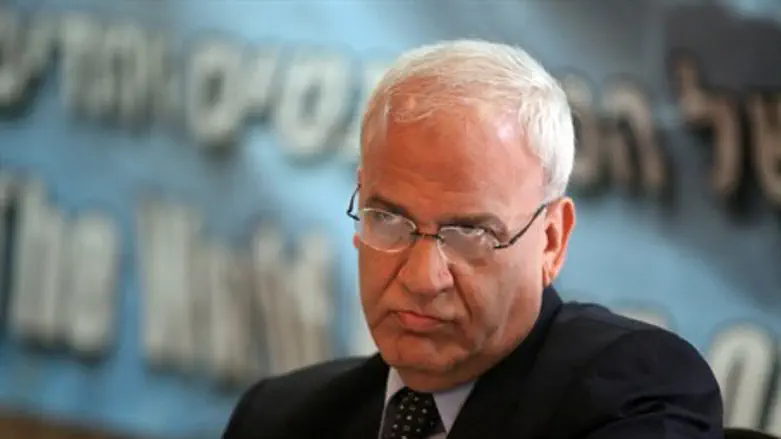 Saeb Erekat
Flash 90
Israel's "peace partner", the Palestinian Authority (PA), has failed to condemn five days of terror attacks but was quick to slam Israel on Tuesday for its airstrikes on Gaza.
Palestine Liberation Organization (PLO) official Saeb Erekat, who serves as the PA's chief negotiator in peace talks with Israel, condemned Israeli attacks on terror targets in Gaza, which he said "aims to initiate a bloody escalation."
"Today the Israeli government proved to the entire world that they have an agenda of war, not for peace, and are only interested in committing crimes against our defenseless civilians," charged Erekat, according to AFP.
The Israeli Air Force (IAF) strikes came in response to a fatal shooting of a civilian IDF worker by a terrorist sniper.
The Israeli army said aircraft, tanks and infantry "targeted terror sites in the Gaza Strip" in retaliation for the shooting, noting that it  marked the "first Israeli civilian killed in the vicinity of the Gaza Strip" since the Israel Defense Forces' (IDF) eight-day "Pillar of Defense" counterterrorism operation in November 2012, which largely stemmed the tide of deadly rockets fired by terrorists on nearby Israeli civilian centers.
Tuesday's shooting was just the latest in five days of terror attacks.
On Monday afternoon, a police officer was stabbed and seriously wounded by an Arab terrorist just north of Jerusalem. The officer's condition has stabilized following surgery, in what doctors described as a "miracle" given that the 15 centimeter (6 inch) knife struck very close to the officer's heart and other vital organs.
On Sunday afternoon a bomb exploded on a Bat Yam bus. Only one person was wounded in that attack on Sunday afternoon - a far more tragic outcome was avoided only by an alert passenger and the quick reactions of the bus driver who evacuated the bus as soon as the suspicious package was spotted.
The PA has yet to comment on these attacks or condemn them. Instead, it continues to incite to murder of Israelis in its media and in its schools.
Despite the incitement, Justice Minister Tzipi Livni said on Sunday that the PA has no connection to the terrorist attacks and that the terrorism should be ignored while talks continue.
Economy Minister and Jewish Home chairman Naftali Bennett, on the other hand, pointed out on Monday that the PA bears the responsibility for the latest terror attacks because it continues to incite.
"The claim that the Palestinian Authority is not connected to the attacks explodes in our faces every day. When you educate your children starting in kindergarten to commit acts of terror, when your TV broadcasts paint Jews as monsters, when even Tel Aviv is not on your map, you are a terrorist."