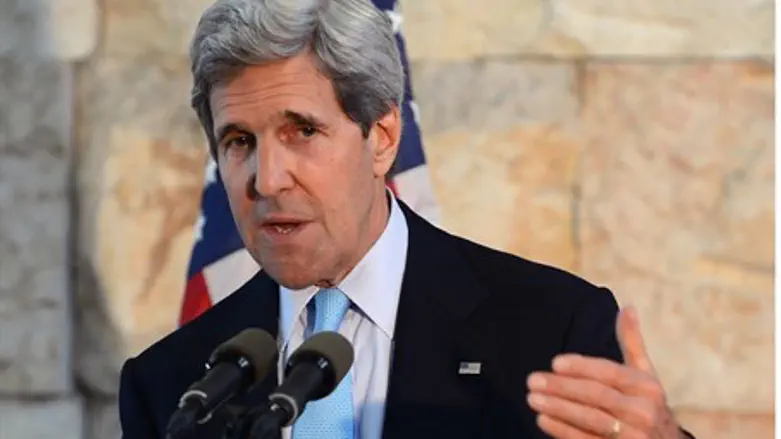 John Kerry
Flash 90
United States Secretary of State John Kerry insisted on Sunday that concrete progress has been made in peace talks between Israelis and the Palestinian Authority (PA), but said details will be kept under wraps, AFP reports.
Kerry, who has made nine trips to the Middle East since March and helped launch nine-month direct talks between the two sides in July, said talking about any agreements could be counterproductive.
"I'm personally encouraged that very tough issues are beginning to take shape," he was quoted as having said in an interview with ABC's "This Week."
"But we've agreed not to be talking about what we're doing because it just creates great expectations.  It creates pressure. It creates opposition, in some cases. I think it's much better for us to do exactly what we've been doing, which is negotiate quietly and privately," added Kerry.
The comments were made just two days after it was reported that PA Chairman Mahmoud Abbas formally rejected Kerry's proposals for Israel to keep troops in a future Palestinian state along the Jordan border.
A source in the PA also formally stated Abbas' position of refusing to recognize Israel as the Jewish state.
Recent reports said that the plan envisaged by Washington would see Israel maintain a military presence in the Jordan Valley after a peace agreement.
An international force would be acceptable to the PA, but Israel opposes such a solution. Abbas has openly declared that a future Palestinian state will have no Jewish presence, military or civilian.
Israel has always insisted that a continued military presence on the frontier would be vital for its security for some 10-15 years after Palestinian statehood.
Before Kerry's latest trip to the region, he had said "we are closer than we have been in years" to reaching a deal. State Department spokeswoman Jen Psaki had said the United States was "focused on a final deal" rather than an interim agreement.
On Sunday, Kerry expressed optimism that this was "a different moment" for the conflict that could allow "a different set of choices" than in past, failed efforts.
"I think that the dynamics of the Middle East offer a different moment, the possibilities of peace with the Arab League, the realities of what might and might not stare people in the face if you don't get an agreement," he said, according to AFP.
"And hopefully, the leaders will seize this moment and at least move the ball forward somewhat," added Kerry.
He cautioned, however, that the Israeli-Arab conflict has "confounded presidents and secretaries state for 30 or 40 years."
"If this conflict was easy ... this would have been done years ago," he said.
The PLO, the political body led by Abbas, remains adamantly opposed to anything less than the effective destruction of the State of Israel as its price for a "peace" agreement.
At recent celebrations commemorating the 26th anniversary of the start of the second Intifada, the PLO issued a statement in which it said that it would not compromise on any of its basic requirements to make a deal with Israel: A full Israeli withdrawal from all lands liberated in 1967, establishment of Jerusalem as the capital of a Palestinian state, and a full return to their original homes the families that fled Israel when it was established in 1948.
On Friday, Economy Minister Naftali Bennett clarified that Israel will not accept the American security proposals which essentially mean that Israel will have to rely on others to ensure its security.
"Recently we've been hearing a new tune: an international guarantee will 'safeguard Israel's security'," Bennett stated. "We are told that they found the answer to all of our security problems. We can evacuate Samaria, Judea and the Jordan Valley (they won't dare speak about the Golan Heights). We can place cameras, lasers, helicopters, and especially - rely on international forces and the security guarantee of our friends." 
Bennett noted that similar security arrangements in Lebanon, Iran and Syria have actually worked against their aims. 
"This has happened dozens of times around the world. Guarantees are words, they are not actions," he concluded. "We will continue to defend ourselves, by ourselves. It has worked not badly at all for the last 65 years."