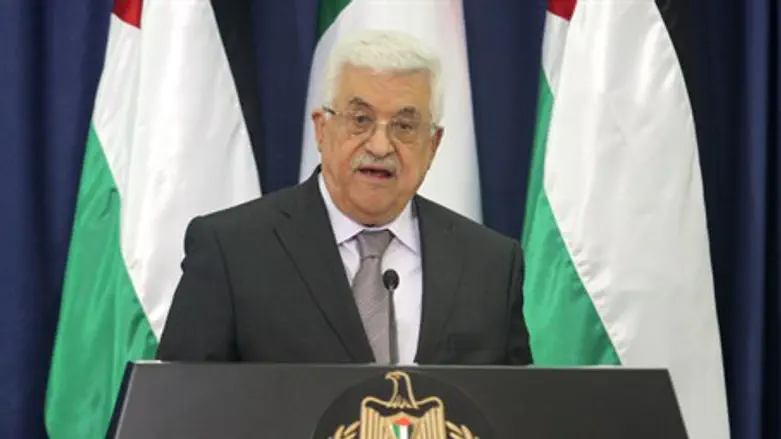 PA Chairman Mahmoud Abbas
Flash 90
Palestinian Authority Chairman Mahmoud Abbas has said that if Israel insists on maintaining security presence in the Jordan Valley, there will not be a peace agreement.
Abbas made the comments in a television interview which aired on Thursday. The comments were cited by Kol Yisrael radio and were made ahead of a meeting between Abbas and United States Secretary of State John Kerry, who has returned to Israel yet again to try and push talks forward.
Abbas added in the interview that all the Israeli "settlements" are located on "Palestinian land" and must be evicted in order for an agreement to be signed. He added that the PA leadership would agree to extend the current talks by one month, if serious progress is made during the nine-month period that was allocated by the Americans for the talks.
He reiterated that he would not agree to any temporary agreement but would be willing to accept a permanent agreement that is implemented in stages.
Abbas also warned that if the next scheduled release of terrorists being held in Israeli prisons is delayed, he will turn to the United Nations.
Last week, Kerry presented Abbas with security proposals for the Jordan Valley, but Abbas was quick to reject them. It was then reported that Kerry would delay the next scheduled release of terrorists in order to pressure Abbas to accept his security proposals.
Responding to Kerry's threats, a spokesperson for Abbas declared that the PA will not agree to the delay.
Israel has always insisted that in any final agreement it would have to maintain a military presence in the Jordan Valley, and has rejected outright the idea of any third party involvement. The PA rejects any long-term Israeli security presence in the Jordan Valley and, in fact, Abbas has openly declared that a future Palestinian state will have no Jewish presence, military or civilian.
Meanwhile, AFP reported, Kerry arrived on Thursday in Ramallah for a meeting with Abbas. A State Department official said that the meeting ended about two and a half hours later.
No further details were provided.
On Friday, the top U.S. diplomat is scheduled to meet Prime Minister Binyamin Netanyahu and President Shimon Peres before continuing to Jordan.