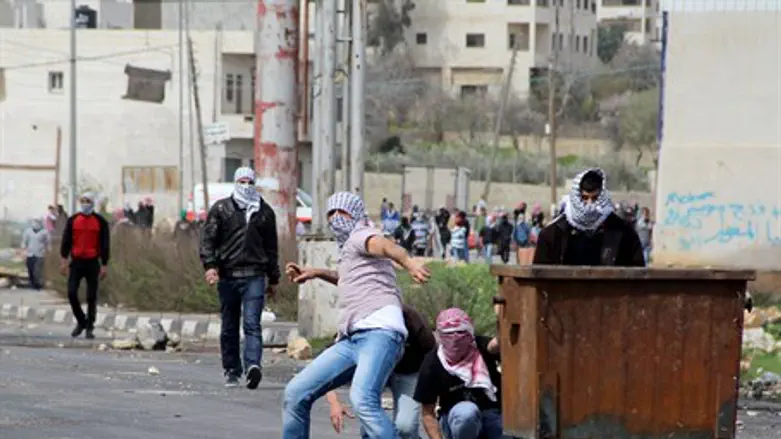 Arab rioters throwing rocks
Flash 90
A senior IDF commander admitted in a Knesset session Tuesday that there has been a spike in the number of casualties from terrorism in Judea and Samaria, Israel's mountainous Biblical heartland. There has also been a "dramatic" cut in the size of the forces providing security for the residents of the area, he added. However, he said, the number of terror incidents is similar to those of previous years.
Yigal Lahav, the mayor of Karnei Shomron in Samaria, who was present at the discussion, said afterward that the officer said there had been a 120% rise in the number of casualties. Lahav said the IDF should put up more fences and lighting, and it should catch rock- and firebomb-throwers and punish them more severely. In addition, he said, the Finance Ministry must provide funds for reinforced buses and cars, so that they can withstand these attacks.
MK Moti Yogev (Jewish Home) said after the session that "there is a rise in casualties because there are more Jewish residents in Judea and Samaria but less protection for the residents. Central Command must defeat the terror attacks and increase the feeling of security: make sure that a youth who throws rocks goes to jail for 5 years and stop the revolving door policy. The main effort needs to be on the offensive, and the rest should be in security and fortification measures to save lives."
Shlomo Vaknin, regional security officer for the Yesha Council, disgreed with the IDF's version of things and insisted there had been a spike in terror events as well. The reason the IDF numbers do not reflect this, he explained, is that if a firebomb misses its target, the IDF does not count it as a terror incident, and if a rock ambush is not reported, it is not counted either. In addition, he said, if rocks are thrown at a number of cars in the same junction, all of these attacks are counted as just one attack.
The IDF has been sending contradictory messages on the subject. Brigadier-General Tamir Yadai, Commander of the IDF's Judea and Samaria Division admitted this week that terrorism in Judea and Samaria is on the rise, and becoming more lethal.