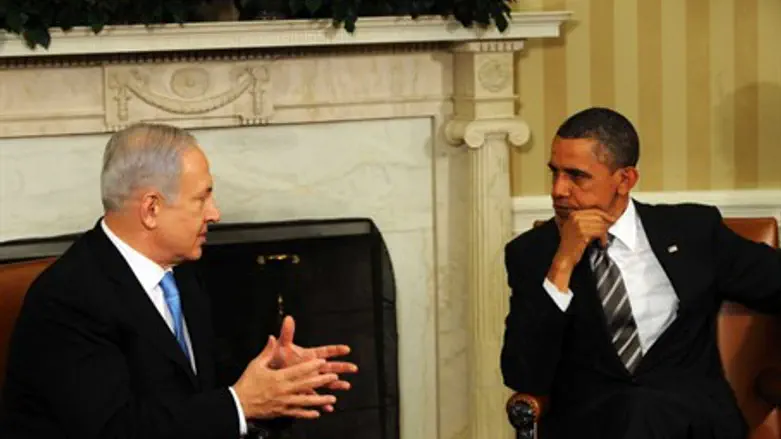 Obama and Netanyahu
Flash 90
A top White House official has declared that Israel's proposal that Iran totally dismantle its nuclear capacity in exchange for sanctions relief would likely lead to war.
According to JTA, the unnamed official made the comments in a conference call on Wednesday with think tanks and advocacy groups sympathetic to the Obama administration's Iran strategy.
A think tank participant on the call said that Israel's posture, demanding a total halt to enrichment and the dismantling of all of Iran's centrifuges, was a path to war.
Agreeing that such reasoning was "sound," the White House official said that given a choice between "total capitulation" and advancing toward a nuclear weapon, Iran would choose the weapon.
That posture would "close the door on diplomacy" and would "essentially lead to war," the official said, according to JTA, which obtained a recording of the call on condition that it not name the participants or fully quote them.
The official sounded frustration with Israel's pushback against the U.S. proposal for a "first step" deal that would exchange some sanctions relief for some rollback of Iran's nuclear program, saying it would provide Israel with a six-month window to influence the shape of a final deal.
The official added that intensified sanctions would likely not only drive Iran away from the talks but would collapse the international sanctions regime in place by alienating a number of countries now abiding by it.
In recent days, Israel has been warning against the deal being offered to Iran by the U.S. and five other countries holding talks with it in Geneva.
That position has put it at odds with the Obama administration and has led to a public war of words between Netanyahu and Secretary of State John Kerry.
Kerry said earlier this week that Israel has "every right" to voice opposition to a potential nuclear deal with Iran.
At the same time, he told reporters, Netanyahu's fear that a deal would leave Israel vulnerable is unfounded.
According to some reports, the U.S. administration has been frustrated with Netanyahu's warnings to the point that President Barack Obama has been refusing to accept Netanyahu's phone calls.