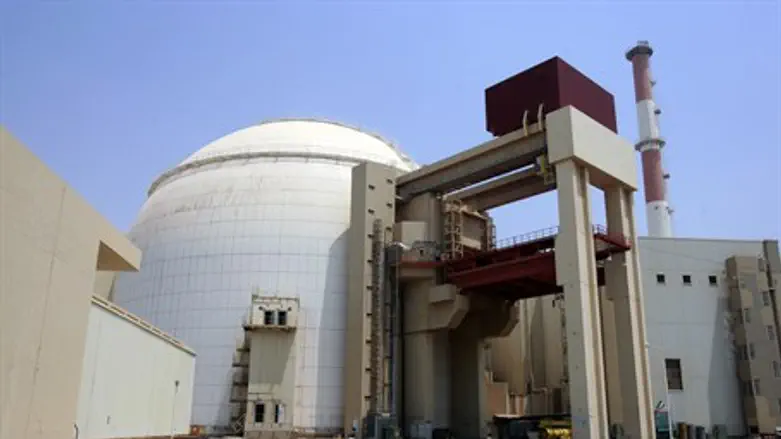 Bushehr nuclear reactor, Iran
Reuters
Israeli security sources claimed Tuesday that Iran's controversial nuclear program has cost the country $170 billion, mostly due to economic sanctions.
Of the $170 billion price tag, $40 billion were "invested over the past 20 years in the construction and operation of nuclear infrastructure," the sources told AFP.    
They said Iran had "lost $130 billion because of sanctions put in place since 2012," including $105 million linked to the oil sector and $25 billion to banking, trade and industry, development and investment.    
The Israeli sources also gave figures for the amount of money they said Iran had sent to its allies in Syria - President Bashar al-Assad's regime in Damascus and Lebanese Shiite movement Hezbollah -- as well as to Gaza's Islamist rulers Hamas and the Gaza-based Palestinian Islamic Jihad.
Up to $10 billion dollars went to Hezbollah, "hundreds of millions" to Damascus, and $1.3 to $1.8 billion to Hamas and the PIJ, they said. But they did not specify when and within what time frame this aid had been delivered.
The figures came amid an escalating war of words over the current approach to ongoing nuclear talks with Iran led by the US.
Critics of the current approach to talks - most notably Israel, as well as other US allies such as France and Saudi Arabia - fear the Obama administration's approach towards relaxing sanctions in exchange for Tehran curbing or freezing parts of its controversial nuclear program is a grave mistake - one which would essentially squander the advantage gained by sanctions which have pressured the regime back to the negotiating table.
Israeli Prime Minister Binyamin Netanyahu has warned on numerous occasions that the relaxing on a sanctions regime which took many years to fully implement in exchange for what he dismissed as superficial concessions on the part of Tehran would be a "bad and dangerous" move.
Speaking to reporters following a meeting with US Secretary of State John Kerry, Netanyahu warned that western leaders were appearing too eager to sign a "rushed deal".
"I reminded him (Kerry) that he said that no deal is better than a bad deal. And the deal that is being discussed in Geneva right now is a bad deal," Netanyahu said.
The proposed relaxation of sanctions would mean that "Iran is not required to take apart even one (uranium enrichment) centrifuge. But the international community is relieving sanctions on Iran for the first time after many years.
"I urge Secretary Kerry not to rush to sign, to wait, to reconsider, to get a good deal," he added.
Officials in Israel have warned they could carry out unilateral military action to stop Iran developing nuclear weapons capability if diplomatic efforts fail.
Critics of the Israeli position have denounced the Prime Minister as "hysterical" over his dire warnings of the consequences of relaxing sanctions too quickly. But others have pointed out that his approach is grounded in very real concerns over the perceived naivete of the current American approach.
Responding to concerns, US Ambassador Dan Shapiro on Monday sought to quell Israeli fears over an emerging deal with Iran, vowing that Washington would never let Tehran acquire a nuclear weapon.    
President Barack Obama "will not permit Iran to acquire a nuclear weapon, period," he told delegates attending the General Assembly of the Jewish Federations of North America in Jerusalem.    
Western countries accuse Iran of seeking to develop an atomic weapon, a charge Tehran denies.    
Diplomats have said they are closing in on an interim agreement that would freeze or curb some of Iran's nuclear activities for as long as six months in exchange for an easing of the tight sanctions on the Islamic republic, after failing to secure a deal at weekend crunch talks in Geneva.