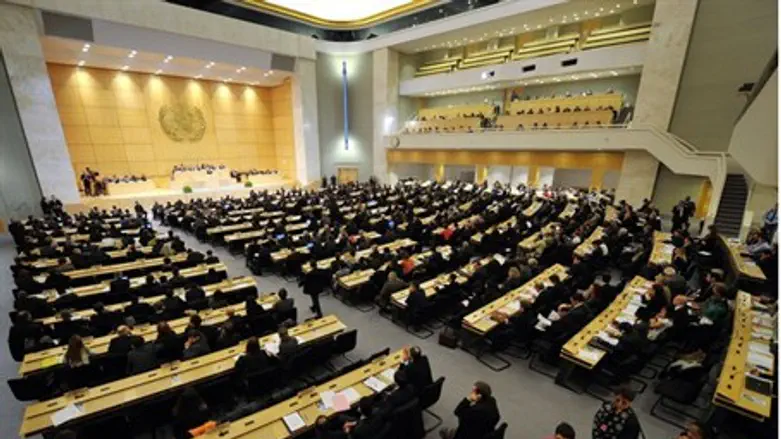 UN Human Rights Council
AFP photo
Israel defended itself against constant discrimination by the United Nations Human Rights Council (UNHRC) in Geneva today (Tuesday), demanding that Israel's "unfair treatment" over the Jewish presence in Judea and Samaria "must come to an end". 
Israeli diplomat Eviator Manor admitted to the council that Israel does not have "a perfect record", stressing that the situation in Israel has been complicated due to "our difficult and complex security situation" with the Palestinian Arabs since its foundation in 1948. "Such challenges strain the delicate balance between the effective steps necessary to overcome the various threats to a state's security and to the protection of human rights." 
Manor further emphasized that Israel is clear of all wrongdoing, stating that "Israel's appearance here is testimony to our daily efforts to uphold the highest standards of human rights." The statement comes after an 18-month boycott of the UNHRC after repeated discrimination by the council against Israel, and after reported threats by Guido Westerwelle of Germany that Israel's absence from the council would incur severe diplomatic repercussions. 
NY-based NGO Human Rights Watch praised the move yesterday (Monday), calling Israel's attendance a "positive step." Today, Peter Mulrean, deputy ambassador of the US, praised Israel's "strong commitment and track record in upholding human rights, political freedom and civil liberties." Mulrean also levied criticism, however, urging Israel to prevent the Orthodox from maintaining control of the Rabbinate and enacting discriminatory policies against secular Jews.