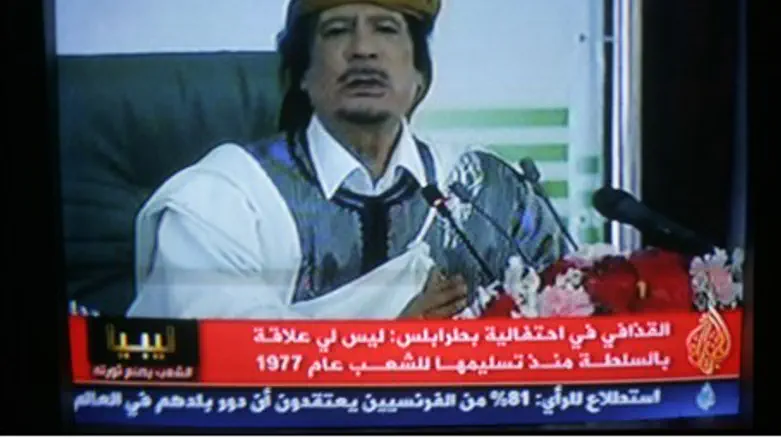 Former Libyan leader Muammar Qaddafi
Israel news photo: Flash 90
Al-Qaeda terrorists are trying to get their hands on a weapons arsenal that was left behind by former Libyan leader Muammar Qaddafi, Al Arabiya reported on Tuesday.
According to the report, Qaddafi's arsenal which remains in an abandoned desert warehouse in southern Libya, includes 4,000 surface-to-air missiles, each capable of downing a passenger jet, and thousands of barrels of uranium yellowcake.
An inventory collected by the International Atomic Energy Agency (IAEA) accounted for 6,400 yellowcake barrels, the report said.
Bharuddin Midhoun Arifi, a commander of 2,000 fighters in the city of Sabha, was one of the main inheritors of the regime's abandoned weapon reserves.
He was quoted as having told the British Times, "Sometimes I'm afraid that Al-Qaeda will get me. Other times I fear that the Americans or French or British will fire missiles from the sea to destroy all I control."
Arifi claimed that Al-Qaeda had most recently offered 1 million dollars for some of the weapons, an offer which he said he turned down.
"I told them…this belonged to my government," he was quoted as having said.
The most pressing matter to Western officials, according to Al Arabiya, is the surface-to-air missiles getting into the hands of Al-Qaeda, an unchecked power in the region enjoying its new freedom in a post-Qaddafi Libya.
"Al-Qaeda was terrified of Qaddafi," said Colonel Faraj Adem, a senior army officer. "None would dare try to enter Libya's borders. But now Qaddafi has gone, and with him our border security, Al-Qaeda is free to come and go as they please. They are choosing this area to rebuild their weapon stocks and become strong once more. There is no control of weapons stocks here. You want to buy a MANPADS? It's easy."
During the 2011 civil war in Libya which ultimately resulted in Qadaffi's death, it was confirmed that the former Libyan strongman had ten tons of mustard gas stockpiled, and it was feared he might use it on opposition forces seeking to bring an end to his regime.
Subsequent reports indicated that Iran had supplied Qaddafi's government with hundreds of special artillery shells for chemical weapons that Libya kept secret for decades.
Lawlessness has prevailed in Libya since Qaddafi's downfall, with jihadists setting up and holding training camps in the country.
There have been several attacks in the country, the most well-known of which is the terror attack on the United States consulate in Benghazi.
Terrorists attacked the U.S. Consulate on September 11, 2012, killing the U.S. ambassador and three other Americans.
Exactly a year later, a car bomb was detonated in Benghazi, damaging the exterior of Libya's Foreign Ministry building and the Central Bank of Libya.