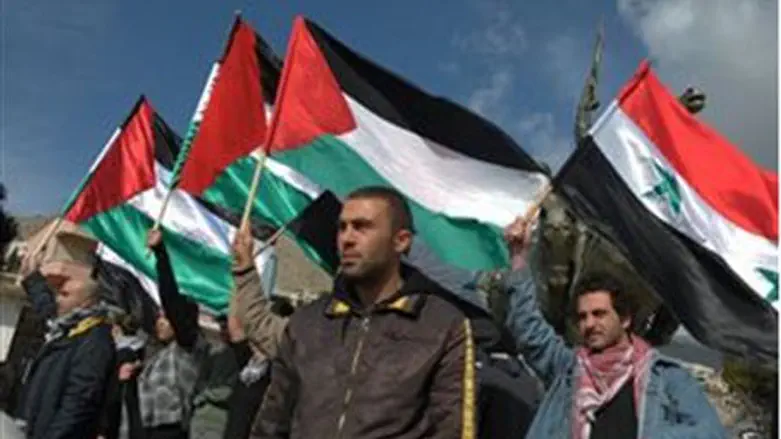 Druze protesters at Majdal Shams (file)
Israel news photo: Flash 90
There are Israelis fighting on both sides of Syria's civil war. While it has been known for months that some Israeli Arab men have entered Syria to join  rebel armies, Walla news is now reporting that several Druze men have snuck into Syria as well, to fight alongside President Bashar Assad's forces.
Among them is 24-year-old Nadim Kadmani, who entered Syria illegally in 2012. Israeli police searched for him for weeks, until he phoned his parents and revealed that he was in Syria, and had been unable to make contact because he was being questioned by Assad's forces.
He has since uploaded pictures to social networking sites showing himself and his friends in Syrian army uniforms.
His parents told Walla they accept his decision. "I didn't ask why he did it. He's grown up, he's 24, he knows what's good for him and bad for him," his father said.
Walla noted that Kadmani and at least one of the men who entered Syria with him previously stood trial in Israel for security-related offenses.
While most Druze outside the Golan region serve in the IDF and participate fully in Israeli life, many Druze in the Golan region remain loyal to Assad, and view themselves as Syrian rather than Israeli. Golan Druze have increasingly turned against Assad over the bloody violence in Syria, but some remain loyal, and continue to demonstrate on Assad's behalf.
Previous reports have revealed that there are Israeli Arabs fighting with the various rebel armies in Syria, including the Al Qaeda-affiliated Al Nusra front. One of them, Muayyed Ighbariya, recently made headlines in Israel when he was reported dead in battle; he later called home to tell his family the reports were false.
Like Kadmani's family, Ighbariya's family did not condemn their son's choice. "We were happy to think that he died a martyr, because that was his mission," Muayyed's father Zaki said.