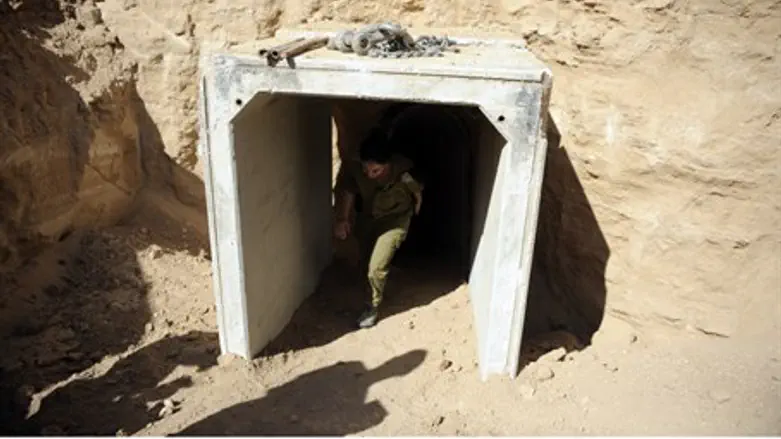 Entrance of previous tunnel uncovered by IDF
Flash 90
The so-called "military wing" of Gaza's ruling Hamas terror group, the Izz Al-Din Al-Qassam Brigades, has admitted that it masterminded the "terror tunnel" that was discovered leading from Gaza into an Israeli kibbutz.
The group has admitted that the tunnel was meant to kidnap Israeli soldiers, reports AFP.
"This tunnel was made by the hand of the fighters of al-Qassam and they will not sleep in their efforts to hit the occupation and kidnap soldiers," the group's spokesman Abu Obeida was quoted as having told Hamas's Al-Aqsa radio.
"We are working on the ground and under the ground to release the prisoners (held by Israel)," he said.
"Kidnapping soldiers is the only way to succeed against the (Israeli) occupation," Abu Obeida.
Israeli officials last Sunday revealed that IDF soldiers had uncovered a tunnel running from Gaza and extending for 2.5 kilometers (over 1.5 miles) into Kibbutz Ein Hashlosha.
Several days after the discovery of this tunnel, Israeli security forces discovered a second one, believed to have been dug during last November's "Pillar of Defense" counterterrorism operation.
Daily newspaper Yediot Ahronot wrote on Friday that Israel had known for over a year about the terror tunnel that Hamas was digging into its territory, but let Hamas leaders continue to pour resources into it.
"Sometimes, as part of the war of minds, [Israel] lets them invest money, wrack their brains, waste human resources, and only towards the end of the digging, does it hold up a stop sign," the paper's defense correspondent Alex Fishman wrote.
Residents of Gaza said they received phone calls on Friday from the Israeli army accusing the Islamist movement of failing to provide for civilians.
"Know that Hamas is spending millions of dollars on tunnels used for hostile and terrorist acts against the state of Israel," the messages said, according to AFP.
"This money should have gone to infrastructure, education and health projects."
The admission by Hamas that it was behind the terror tunnel comes one day after Ismail Haniyeh, who heads the Hamas government in Gaza, celebrated the abduction of IDF soldier Gilad Shalit on the two-year anniversary of his exchange for 1,027 jailed terrorists.
Haniyeh on Saturday called on Arabs to make pilgrimage to the Al Aqsa mosque in Jerusalem, and to "renew the intifada" in Judea and Samaria, in both its "popular" and armed versions.
He praised the terrorists who carried out recent attacks on Jews in Judea and Samaria, and called on the Arab and Islamic countries to prepare themselves for "the big Al Aqsa Intifada."
A day earlier, Hamas issued a threat to Israel, warning that it will kidnap more Israeli soldiers in order to bring about the release of all Palestinian Authority Arab prisoners.